As Muslims aggressively push their Islamic agenda of Ghazwa-E-Hind with unwavering fervor, Hindus have become commodities. The truth is that Muslims view Hinduism as an impediment to establishing their fiendish motive, so they revert to Jihad. Jihad is an ongoing war, which can take many forms and have many faces. Despite repeated warnings, Hindus still fail to see through it. There has been a willing acceptance of Jihad among Hindus, regardless of whether it is Love Jihad, land Jihad, education Jihad, etc. It's a wonder why Muslims aren't easily able to trap and deceive anyone else the way Hindus are. This is because Hindus have become structurally weak and prefer to stay away from their roots. Due to this culture of being too flexible and open-minded, they have fallen into a deep abyss from which they cannot escape.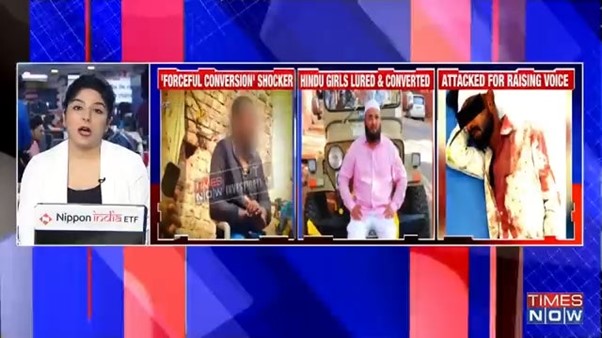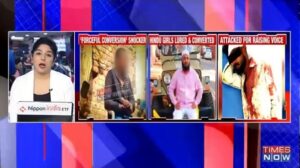 Conversion Rate Card Of Hindus
One such brutal story has emerged from Daund, Maharashtra, which is frightening and alarming. There is a disturbing revelation from Daund that around 200 Hindu families convert to Islam every year. Hindu husbands of Muslim wives are circumcised by force and Muslim boys are paid Rs. 5 lacs to convert Hindu girls to Islam. Hindus fail to see the dirty side of Islam. The ever-bustling Muslim bazaar has a Hindu rate card! Does one wonder where the question of Muslim suppression arises if this is the case in a supposedly 'Hindu-majority' state?
A Times Now report revealed that local MPs also support this mafia. Not only Hindu girls but also Hindu men are honey-trapped by Muslim women, who threaten to kill them if they don't convert. This game was set and played by a man named Kamel Qureshi aka Haji Saheb. He is credited with being the mastermind of this entire conversion mafia operating in Daund. A Hindu rate card for Muslim communities is said to have been designed by him.
A Hindu girl who was a victim of this love jihad stated, "My mindset was that he is a Hindu boy and therefore my family will accept him and there won't be any problem. But when the court documents appeared in front of me, at that time, I came to know that the boy was a Muslim. I was shocked and asked him how did he dare to do this fraud with me. But he was accompanied by his friends whom I don't know. I am a self-reliant girl. He said that he will take care of my family too. Then he told me the whole planning."
TIMES NOW SIT investigation exposes forceful conversion shocker allegedly taking place in Maharashtra's Daund.

"In last 1-2 years around 200 Hindu girls must've been converted. The men who are able to convert the Hindu girls are being awarded Rs.4-5 lakhs," a local says. pic.twitter.com/yUyTUHtoGv

— TIMES NOW (@TimesNow) January 12, 2023
A local resident stated, "In a year, around 100 to 200 people are converted here. Among them, most are girls. They are only 17 or 18 years old when it happens. A few of them will be in college when these people brainwash them. They talk about marriage, and after these girls give birth to their children, they are divorced and abandoned. Then they get ready to marry again. Hindus are scared to react as the people behind the forced conversions beat up and threaten girls. They eve-tease these young girls in public but no one can even file a complaint against them. All politicians here support these men, which is why no one is ready to raise their voice. People are scared to even talk about the matter."
He further added,
"If a Hindu girl marries a Muslim guy, the Muslim youth gets around Rs 5 lakhs from the community. There are a few people behind these activities. They are Farooq Qureshi, Kamel Qureshi, Ashib Qureshi, and Farhaan Qureshi. Nobody talks against them, nor takes their names."
A Hindu man who married a Muslim woman recounted his horror, as he was forcefully converted to Islam and circumcised. He said, "They pinned me down and started video-recording using a mobile phone. One Asif Sheikh held my arms and Kamel Qureshi grabbed my legs. Then, they asked a doctor to start the process. Later, they left me on the floor bleeding."
Conclusion
Historically, Hindus have always preferred to live under threat instead of retaliating actively. If Muslims can adopt jihad, why can't Hindus? Is it imperative for Hindus to act and remain as Dhimmis at all times? Our governments, administration, and the judiciary are all held to ransom by Muslims because they are united and concerted in their efforts. Hindus, on the other hand, are fragmented and self-centered. Thus, the lack of collective voice has made them a puppet under the hands of everyone with vested interests. If Hindus don't awaken now, their future looks doomed, like what happened in Pakistan, Afghanistan, and Bangladesh.
---
References: