On Friday, the Supreme Court of India rejected a plea that had asked the court to prohibit the operations of the British Broadcasting Corporation (BBC) in India on the grounds that it was pursuing a "anti-India" posture. The petition had been filed by an individual. Hindu Sena President Vishnu Gupta filed the petition after the BBC aired a documentary that was critical of Prime Minister Narendra Modi. The Central Government has stopped the documentary from being shown.
What is in the petition?
Focusing on the continuous tradition of BBC to portray Bharat in adverse light and highlighting crooked agendas, the plea stated-
"…[it] is result of deep conspiracy against global rise of India and its Prime Minister Sh. Narendra Modi. The first part of documentary is bases on the Gujarat violence in 2002 which started after 59 Hindu Karsavaks were burnt alive at Godhra Railway Station while they were returning from Ayodhya. The Central government has justifiably blocked the documentary using its emergency powers under the Information Technology Rules, 2022."
The petition, which was filed by lawyer Barun Kumar Sinha, also asked the NIA to start an investigation into the, 'anti-India and anti-Indian Government reporting/documentary films/short films including its employee journalist in India'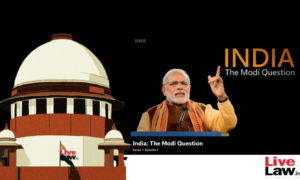 Reaction of the Supreme Court judges
Justices Sanjiv Khanna and MM Sundersh, who were on the bench, said the petition was "absolutely misconceived" and expressed surprise at this unwarranted petition. In the views of the judges the petition seeks to 'completely censorship' which cannot be argued. When the petitioner's side requested to keep the matter alongside those other petitions which are challenging the centre's order to block the latest documentary by the BBC. On responding to that, judge said that the petition had no merit hence it has been dismissed.
Can Judges be justified?
The judges seem totally unaffected by the sheer agendas and colonised narratives working in Bharat. Supreme Court's attitude is totally far away from the realities on ground. Therefore, it can be seen that how an important issue of playing with the narratives is being utterly dismissed.
Exposing a cartel behind the BBC propaganda documentary and people involved in it👇https://t.co/76ad6FGBfX

— Vijay Patel🇮🇳 (@vijaygajera) February 10, 2023
And the whole world knows that what kind of lie-peddler BBC is. There is not an iota of doubt that each and every news, documentary and news-piece targets to create a smoggy layer around the truth, and brainwash people. However, response of the judiciary is not very surprising, because the next stage of colonial-mindest has been unleashed in the form of 'Wokeism'. This brand of Wokeism has ambassadors sitting on the highest positions and acclaiming all the comforts and luxury from the top of the fort. Their myopic and self-centred vision has no assurance for a common Bharatiya who had dedication and passion for Bharat. Nor they pay any allegiance to Bharat as a civilization.
---
Reference-