Diwali consists of five days, each with a specific significance. Bhai dooj and Govardhan Pooja fall after Diwali and both have their own significance for Hindus.
Govardhan Pooja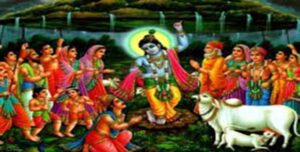 In honor of Shree Krishna's Baal Roop, the Govardhan Pooja is celebrated a day later. Govardhan Pooja is also known as Annakut or Annakoot, which means 'Mountain of Food'. A devotee offers 56 varieties (chhappan bhog) of vegetarian food to a mountain deity. On the first day of the Shukla Paksha of Kartik Mahina, this festival is celebrated. Govardhan denotes a place in Uttar Pradesh called the Govardhan Parvat that was lifted by Shree Krishna on his own. As a tribute to Shree Krishna's saving them from Lord Indra's wrath, this pooja was started by the people of Brijbhoomi. Over time, this celebration spread to various parts of India, especially among devotees of Krishna.
In Govardhan Pooja, the gods and devotees are united by faith, devotion, and protection. According to the celebration story, all humans should be respectful towards mother nature and grateful for all the blessings they have been given.
In their homes, people build a mountain with cow dung, symbolizing Govardhan Parvat, and decorate it with flowers and colors. To pray for the well-being of their family, they perform Parikrama followed by singing Kirtans and Bhajans. A tradition holds that 56 bhog must be offered to Govardhan mountain to show respect to mother Earth.
Bhai Dooj
As per the Vikram Samvat Hindu calendar or Shalivahan Shaka calendar, Bhai Dooj occurs on the second lunar day of Shukla Paksha in Kartika. A sister applies tika on her brother's forehead and performs puja and fasts to pray for his prosperity, health, and success on this day.
As the story has it, Goddess Yamuna fed her bother Yama on Kartik Dwitiya at her home on Bhai Dooj. This day is also known as Yama Dwitiya. A number of ancient scriptures mention Bhai Dooj as a celebration of an eternal bond between brothers and sisters. The origin of Bhai Dooj can be traced to Shree Krishna and Yamraj according to several scriptures.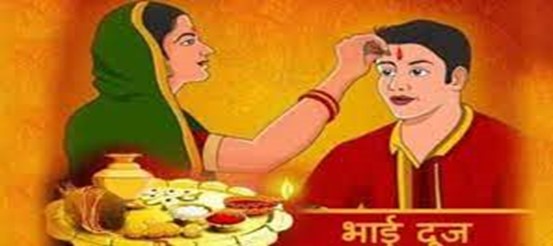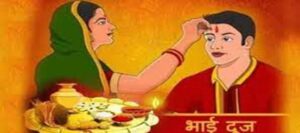 Each Hindu festival carries a deep symbolic value, showing the importance of every relationship and each relationship's significance. Our festivals are full of fun, meaning, and gaiety, which also strengthens bonds among us. Hindu festivals have a distinct impact not only on the people but on their surroundings as well. Best wishes for Shubh Govardhan Pooja and Bhai Dooj!!!
---
References: