Another drama has yet again been started by the drama-specialist AAP. Kejriwal and his party MLAs have all been embroiled in some controversy or another, forever. From the party's inception, controversy has become synonymous with AAP. In such a short period, they have managed to harm Indian interests in a way that no other party has ever been able to accomplish. The AAP has strayed from its stated principles and has become the complete opposite of what it advocated.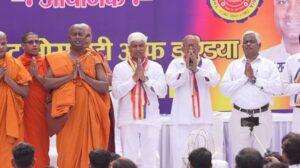 The Conversion Drive- Anti- Hindu Stance of The AAP
Thousands of Hindus were recently converted to Buddhism at a massive event in Delhi. Rajendra Gautam, an AAP MLA, actively participated in the event. Organizers of the controversial event were the Buddhist Society of India. A man clad in a saffron robe administered BR Ambedkar's 22 controversial oaths to the attendees. Hindu deities and beliefs were viciously attacked by the man, and he urged people to avoid anything related to Hinduism.
The BJP attacked the AAP for its rabid anti-Hindu stand and painted AAP's image as anti-Hindu ahead of the Gujarat elections. As a result, Arvind Kejriwal has gone on a face-saving spree to protect his already tarnished reputation. How could a party MLA attend such a controversial event in Delhi without Kejriwal's permission? Considering Kejriwal's reputation for interfering in all matters, whether they pertain to him or not, this is astounding. Following the public backlash, Kejriwal has suddenly become a devout Hindu and a religious person. The irony and self-delusion didn't stop there, as he claimed he was born on Janmashtami to eradicate the children of Kans. AAP chief's hypocrisy and sense of entitlement is mind-boggling and confusing.
The seasonal Hindu, Muslim, Christian, and Sikh Mr. Kejriwal has seriously jeopardized his electoral chances because of his over-smartness.
AAP Minister Rajendra Pal Gautam who was spotted participating at an event, where people took an oath boycotting several Hindu Gods, resigns

(File picture of minister) pic.twitter.com/aezloNyIN6

— ANI (@ANI) October 9, 2022
It smacks of a fiendish conspiracy hatched against Hindus in this entire drama of resignation by AAP MLA Rajendra Pal. Unfortunately for the AAP, their evil plan of dividing and weakening Hindus is now publicly exposed. The AAP MLA stated "I personally attended the Buddhist Dhamma Deeksha Samaroh organized by Mission Jai Bhim and Buddhist Society of India on the occasion of Ashok Vijayadashami on October 5, 2022, at Ambedkar Bhavan Rani Jhansi Road as a member of society. This had nothing to do with the Aam Aadmi Party and my council of ministers. Babasaheb's great-grandson Rajratna Ambedkar repeated 22 vows of Babasaheb which were repeated by more than 10000 people as well as me. After that, I see that the BJP is targeting our leader Shri Arvind Kejriwal Ji, and the Aam Aadmi Party, it is very sad for me."
His shrill cry for victimhood is now a way to whitewash his sins and gain sympathy as well. Kejriwal has always been adept at gaining public sympathy to hide his corrupt and evil acts. Kejriwal recently said, "I saw my posters across Gujarat against me. I know they (BJP) hate me. I have no problem with them defaming me, but now they are using abusive words against gods as well. They are insulting gods as well, they are not even sparing gods. They are the descendants of Kansa."
Conclusion
Kejriwal has now crossed all boundaries of sanity by comparing himself to Shree Krishna, the height of delusion! These statements seem nothing but blatant lies to anyone whose MLAs were involved in the Shaheen Bagh riots. In Mr. Kejriwal's case, the skeleton of lies has begun to fall from the cupboard. To save his face, he must understand that resignation, protests, and victimhood won't work. Gujarat's people will not fall for his dirty tactics, because despite everything, his anti-Hindu face is in full view.
---
References: