Another more shocking, brutal, and gruesome case, even more horrifying than Shraddha's, emerged in Rewa. The brutal and remorseless killing by Yunus Ansari of Vikas Giri is an indication of the Islamic mentality harboured by the Muslims in India. Increasing Islamic barbarism has become a daily threat to Hindus. The inherent hatred Muslims harbor toward Kafirs aka Hindus isn't new. But the rate at which Muslims are attacking and killing Hindus for various reasons is worrisome and disturbing. The very quiet demeanor of the secular gang and the elite leftists is striking, in the current scenario.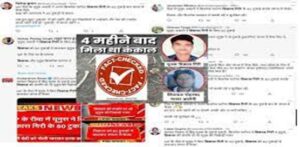 Vikas Giri's Murder
In Rewa, Madhya Pradesh, a more severe and brutal case than Shraddha's occurred. During the investigation into the murder of Vikas Giri, a 21-year-old plantation contractor, the Rewa police arrested 31-year-old Yunus Ansari. Ansari was arrested after Giri's remains were found in 80 pieces in the Dudhmuniya forest, in February. The second accused, Sirtaj Mohammad, is Ansari's brother-in-law and is still at large.
Navneet Bhasin who is Rewa's SP quoted the following,
"A resident of Chhuiya village Vikas Giri, 21, a contractor of plantation of the forest department, went missing in October 2021. His father filed a missing complaint. In February, some cattle grazers found some parts of his skeleton and his Aadhaar Card in Dudhmuniya forest and they informed the police".
A comprehensive search and investigation led to Yunus Ansari's arrest, where he confessed to his crime. According to the police, Yunus and Vikas were business partners, and the latter was seen quite a few times with Yunus's sister. Police detained Ansari on November 14 and he confessed to the crime. Vikas and his sister were at his house together, he said. This angered him to the point that he and Sirtaj attacked Vikas with a rod and killed him. Later, they disposed of the body in a deep forest.
Conclusion
The fearlessness with which Islamic atrocities are rising in India needs to be highlighted and serve as a wake-up call for Hindus. Muslims are constantly attacking Hindus, as they will find any excuse to kill or convert Kafirs under the pretext of Jihad. Hindus must remain aware and conscious of these atrocities, as well as prepared to fight against radical extremists driven by hate.
---
References: