It is not something new or unheard of for Congressiyas to hijack, pervert, distort, and corrupt India's historical legacy. Congress has been the grand old flagbearer of nepotism and snatching away people's rights. The dedication of Children's Day on 'Shree Chacha Nehru's' birthday is one such false legacy that has been carried on for decades. The much-loved Nehru is falsely portrayed as being very caring for children. Throughout the decades, the leftist and Marxist media have perpetuated a false and blatant lie to portray a kind and loving image of Jawaharlal Nehru.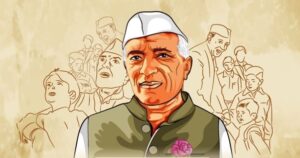 The Real Truth Behind Celebrating Children's Day
The Congress, or the image-conscious party, did so in order to project themselves as relatable and more accessible. That's a far cry from the truth. How much this party did to secure the interests of the children and the youth of the country can be gauged from their past tenures. This hullaballoo started post-Nehru's death, and media houses continue to run this 'Bal Diwas' narrative uncritically. The platitudes attributed to Nehru have become intolerable for the masses now.
There has been much media coverage of the United Nations declaring 20th November as Universal Children's Day. Following Nehru's death in 1964, his birthday became India's official celebration of Children's Day. However, this story is nothing but a blatant lie, and the real originator behind this was VM Kulkarni. V.M. Kulkarni served as a UN Social Welfare Fellow in the UK focusing on the rehabilitation of children who had been crime victims. It was then that he realized India lacked such provisions for underprivileged children. The fact that Queen Elizabeth 2's birthday is celebrated as Flag Day in England inspired him. The purpose of this was to raise money for Save The Child Fund. He suggested that Jawahar Lal Nehru's Birthday likewise, Flag Day should be dedicated to raising funds.
Although Nehru was embarrassed by the suggestion at first, he reluctantly accepted it. Kulkarni's proposal had been approved by the UN as well.
Therefore, Children's Day was celebrated for the first time on 14th November 1951 when Nehru was still alive.
An international fair hosted by the Indian Council for Child Welfare (ICCW) in 1951 was later recognized as Children's Day.
It's important to understand the roots of the ICCW, which was never an independent body, but rather one closely tied to the Nehru-Gandhi family. Rajkumari Amrit Kaur, the first woman to hold cabinet rank, was the first ICCW president from 1952-1958. From 1958 to 1964, Indira Gandhi served as president.
Moreover, stamps issued in 1957 prove that Children's Day was celebrated during Nehru's lifetime. In 1961, when Nehru was India's prime minister, a commemorative stamp was issued.
Thanks to this tweet, I started digging.
It shows the clipping from The Organiser discussing ethics of PM declaring his B'day as Bal Diwas.https://t.co/uUFvFYBhcT

— CBG San (@OnlyNakedTruth) November 13, 2018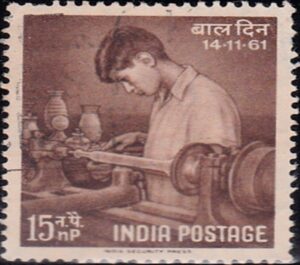 Conclusion
By 1954, children were said to have been forced to raise slogans such as "Nehru chacha ki Jai" while celebrating Children's Day. The falsely glorified persona of Nehru was an act of political sycophancy and an attempt to generate false relatability. VM Kulkarni's positive initiative, who himself came from a disadvantaged background, was hijacked by the Nehru clan. It was Kulkarni's desire that that day is marked as flag day for underprivileged children to collect funds. It gradually became a day of singing praises and showering appreciation for Nehru. Thus, the significance, essence, and importance of this event vanished. This portrays the pride of the obnoxious Gandhi family when Nehru awarded himself the Bharat Ratna when he was PM. Hence, we don't need to honor Nehru today but rather honor VM Kulkarni and his noble thoughts without being influenced by the sycophants.
---
References: