Chinese PLA lives off on scuffles, intrusion and provocation of Indian soldiers, however they forget the results of such provocation in the past. Indian army is among the most dedicated, energized and now modern equipped troops of the world, where they do not stand any such intimidation. But China's nature cannot change, and they started to provoke Indian soldiers in Tawang sector of Arunachal Pradesh.
Since May 2022, Line Of Action is heightened with the tension between the two countries, India and China. Galwan valley clash in June 2020 was the escalating point. During this clash Bharat lost her 20 soldiers, but they knocked off as many as 35 soldiers of Chinese PLA and didn't let the Chinese fulfil their evil objectives.
What Is The Issue?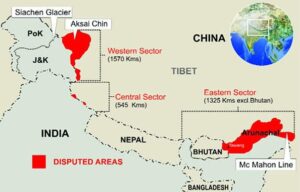 On Tuesday, Defence Minister Rajnath Singh, while addressing the Lok Sabha, gave a detailed information regarding the recent scuffle between the Chinese and Indian army at the Arunachal Pradesh's Tawang sector 9. Arunachal Pradesh border is the most sensitive area in terms of border security issue. China is hellbent upon annexing the state by any means. However, they have always been retaliated and confronted by the Indian soldiers.
However, on 9th of this month, almost 300 Chinese soldiers came prepared to transgress the border in the Yangtse area of Tawang sector to change the status quo.
This intrusion was met with an equal vigour by the Indian soldiers, and the Chinese PLA soldiers faced grave injuries at the hand of Indian army. There is no case of deaths on both the sides.
While addressing the House, Rajnath Singh mentioned,
"Due to timely intervention of Indian commanders, PLA soldiers went back to their locations. As a follow up of the incident, local Commander in the area held a Flag Meeting with his counterpart on December 11 to discuss the issue in accordance with established mechanisms. The Chinese side was asked to refrain from such actions and maintain peace and tranquillity along the border. The issue has also been taken up with the Chinese side through diplomatic channels,"
India-China faceoff: Injured Indian troops admitted to Guwahati hospital

Read @ANI Story | https://t.co/eFndiPowOC#China #BorderForce #Tawang pic.twitter.com/vwBC1LgrWz

— ANI Digital (@ani_digital) December 12, 2022
China The Perpetual Perpetrator
Defence Ministry issued the statement in lieu of this incident that this has been a continuous trend since 2006 that in certain areas of Tawang sector Chinese government put their claim and now and then come with schemes to change the status quo. While both sides patrol the areas to keep their claim up, such scuffles arise between the two sides.
Similarly, on June 15, 2020, Chinese troops had attacked the Indian soldiers near the Ladakh border, and this resulted in the Indian side losing their 20 soldiers.
In 1967 also, during a military combat between India and China 80 Indian soldiers and 300 Chinese soldiers were killed. This fight had broken out near Nathu La and Cho La, which are the strategic passes near Chumbi Valley.
Conclusion
India has always made sure to keep peace with the world but never hesitated to give a befitting reply to any challenge posed before them. Bravery of Indian soldiers is unmatched, and they always show this by their actions.
Expansionist tendencies of China need strategic, military and economic blows from the Indian side. As China tries to block India from various sides, whether it is Ladakh border, Arunachal border or Pakistan's Gwadar port; Indian Government must retaliate in the same multi-modal and multi-pronged approach.
---
 References