India and China stand on the two opposite verges of Asia. There are so many historical civilizational links which have been forgotten. But still some hope remains due to the calmness Government of India is showing. The military stand-off that began on May 2022, still lingers on with some disengagements.
India-China held 25th meeting of Border Affairs (WMCC) today.

-Both welcomed disengagement in Gogra-Hot Springs (PP-15) between 8-12 September

-The two sides agreed to continue discussions through diplomatic and military channels to resolve the remaining issues along the #LAC

— Abhishek Jha (@abhishekjha157) October 14, 2022
25th Border Meeting
On 14th September a meeting of the Working Mechanism for Consultation and Coordination on India-China Border affairs (WMCC) was held. During the meet the two parties reviewed the situation along the Western sector of border areas.
The kind of rift created during Galwan Valley encounter, has been pacified to the extent that it does not disrupt any future mutual engagements. In the last Corps Commander Level meet, the disengagement on the Gogra heights- Hot springs was discussed. And on September 8th, this process on the eastern Ladakh region began.
Initially the two armies disengaged from the Galwan valley and the two banks of the Pangong Lake in eastern Ladakh.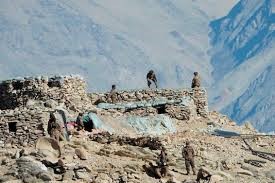 With this step relationship with China will help evolve. Since the two Asian countries have immense potential in all the sectors, they should consider peaceful relatons in future.
Significance of Gogra Disengagement
The point from where the two armies are receding are P15 and P17. This will eventually help in deescalating the tension and rift between the two nations. In the joint statements of the 16th round meet, there was a call for peace and tranquillity in the Western borders. With the recent meeting, 17th round of Corps Command meeting is also stated to be held in upcoming future.
Conclusion
India has always taken a very rational stand while dealing with China. China and India are big trade partners as well as competitors. And there are great potential in people to people connections because of the huge demographic dividend both nations have. Therefore, while in the situation of a conflict, Indian soldiers responded with valour and vigour and stood tall. However, on a strategic front Indian diplomats and government showed calmness and a futuristic approach. In the contemporary world where there are so many poles created, each one has to choose their side; but India has taken a position of balance and national interest along with not interfering with the others' matters. At this point undue provocation and war-mongering would be a hurdle for the fast pacing Indian economy. Therefore, a strategic and calculated policy is adopted by the government of India.
---
Reference