The reputation of Pakistan around the world is well known and renowned! (Pun-intended!) Pakistan is well known for exporting terror around the globe and being a financial liability. Although the leftist cabal portrays Pakistan as a progressive country, the truth is for everyone to know. A reality that was hidden until now is being revealed on the global stage, where the Pakistanis themselves have retaliated.
In current times, Pakistanis themselves have to retort to such apathy. In Pakistan, the military and administration have always taken the general population for granted; the results are obvious. Now, the public outcry has reached a global audience. Marriyum Aurangzeb, Pakistan's Information Minister, was heckled at a London coffee shop recently. It wasn't too long ago that PTI supporters harassed Planning and Development Minister Ahsan Iqbal outside a restaurant.
Ministers aren't the only ones to be heckled, the Prime Minister of Pakistan was heckled as well. PM Shehbaz Sharif and his entourage were heckled and assaulted by Pakistani pilgrims in April, at Madina.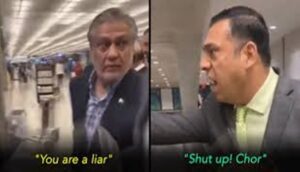 The Incident
Ishaq Dar, Pakistan's Finance Minister, was heckled and jeered by Pakistanis living in Washington D.C. on October 13th, 2022. A crowd of angry, anguished, and frustrated people shouted slogans of 'Chor Chor' at the airport, which led to a verbal altercation between the crowd and the Minister's supporters.
In response to this incident, the Minister was visibly irritated and retorted that they should shut up. Another man in Dar's entourage exchanged profanities with the hecklers when the situation became aggressive.
Pakistan's FM is in the USA for the annual meetings of the IMF and World Bank. Pakistani officials, ministers, secretaries, and Pakistan's ambassador to the United States accompanied him.
لندن میں تو یہ معمول ہے۔ یہ تو امریکہ میں بھی وہی ہورہا ہے۔ pic.twitter.com/Z34WSxDr5G

— Ihtisham Ul Haq (@iihtishamm) October 13, 2022
Conclusion
Due to its radicalized population, Pakistan has become the target of global jokes. It is impossible for a country whose sole motivation is hatred toward India to achieve anything significant. Their hatred of Hindus and Hinduism has affected them deeply, which has stunted their ability to grow and think. Insanity drove them away from reality and rationality, making them mere pawns in the hands of a few. Using the normal populace as puppets to implement their hate agenda, these select few grew their wealth and coffers. Now that the people of Pakistan are waking up to the truth, it is too late. Pakistan is a sinking ship, one that is beyond salvation and redemption and it is these normal people who shall bear the brunt. To see the real face of Pakistani administrators, these people must leave their religious fanaticism and idiosyncrasies behind. Pakistan's future is bleak if they don't wake up now, a fact that is obvious to anyone.
---
References: