A big ode to Mr. Kejriwal's hypocrisy for making Delhi such a dangerous place to live. Kejriwal's hypocrisy is unparalleled, and it's nothing new. The Air Quality Index (AQI) for Delhi has climbed into the very poor category. The average air quality for delhi ranges from 339 to 381. An AQI between zero and 50 is considered 'acceptable', 51 to 100 'satisfactory', 101 to 200 'moderate', 201 to 300 'poor', 301 to 400 'very poor', and 401 to 500 'severe'.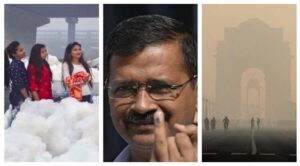 Kejriwal's Laxity And Hypocrisy
Mr. Kejriwal is happily pursuing his illogical and vindictive politics in Delhi while people are struggling to breathe. Using his usual Bechara card, he's blaming the Modi Government as he always does. The convenient stance of always playing the victim card does not work in perpetuity. There are various health hazards associated with the dangerous air quality level, especially for children and the elderly. Kejriwal, on the other hand, seems least concerned or bothered by the situation. There is a clear demonstration of his frustration and hypocrisy, as he can no longer blame Punjab.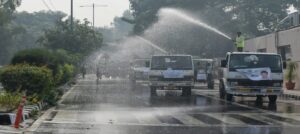 Earlier, when the Congress ruled in Punjab, Mr. Kejriwal was quick to blame them for pollution caused by stubble burning or Parali. But now that his party rules Punjab, who should be blamed? It's obvious that it's not him, since Mr. Kejriwal embodies the Bechara Aam Aadmi.
When Kejriwal banned crackers during Diwali in Delhi, he pursued his secular ideology to the hilt. The Tughlaqi Farman was not unexpected from Kejriwal; what else could be the most effective way to demonstrate his secular credentials and his ethical conscience? A Hindu festival celebrated only once a year, crackers are banned because by burning two days' worth of crackers, pollution is accumulated all year (pun intended!). Rest of the year, the ongoing pollution in Delhi can be overlooked, whether it is due to vehicular traffic, construction, or deforestation. As his party has now taken over Punjab, he has no solution to the stubble-burning issue. His hypocrisy was exposed when he banned crackers in Delhi but not in Punjab.
Conclusion
Kejriwal is a unique politician, with distorted morality, confused thoughts, and wrong ideals. He crippled India's political and administrative system with his freebie-based and self-centered politics. The blame culture created by him isn't producing any results, but rather wreaking havoc on people's lives. It's high time people understood Kejriwal's dual face and prioritized their own self-interest.
---
Reference: