The Open Society Foundations is owned by billionaire "philanthropist" George Soros. George Soros is a symbol of worldwide regime change. As one might expect, the "genius" millionaire emerged and spoke about his part in the recent upheaval. The Hindenburg report was heavily influenced by George Soros. He expects that the demise of industrialist Gautam Adani would lead to Prime Minister Modi's downfall.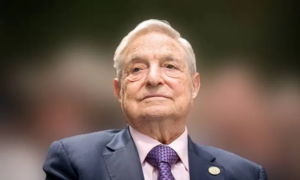 George Soros' group has been described as "agents of anarchy" by governments and opposition parties. They have plotted to destabilise the European Union and supported Arab Spring protest organisations. His foundation apparently "help promote the values of justice, democracy, and human rights" in over 120 countries throughout the world.
George Soros and the Leftists
Congress has been out of power for almost a decade now. With the favourable results for BJP in the 2024 elections, they will be out of power for fifteen years. However, with the recent fiasco of George Soro out in the open, Congress is trying to stay aloof. Pictures reveal a whole other story. Salil Shetty, the vice president of Open Society Foundations was pictured walking the ridiculous Bharat Jodo Yatra alongside Rahul Gandhi.
The Colour Revolution
George Soros wants a "colour revolution" in India. The phrase "colour revolutions" refers to a series of mass upheavals throughout Eastern Europe in the early 2000s following the fall of communism.
Middle East and Asia saw these movements. Protests sometimes feature large crowds demanding free and fair elections or the resignation of authoritarian governments. These upheavals destabilise regimes in order to benefit Western interests.
George Soros with his poisonous ecosystem of NGOs, activists, and journalists have been attempting to portray Prime Minister Modi as an "electoral autocrat". Soros has been working to remove Modi. And it has been a long time in the making.
In January 2020, the American billionaire pledged $1 billion to establish a worldwide university. It aimed to "combat nationalism" and climate change, seeing them as twin threats to our civilisation's existence.
The Nefarious Circle
Soros employs numerous academics, including former Prime Minister Manmohan Singh's daughter Amrita Singh. The list also includes 'author' and 'social activist' Harsh Mander, who was at the forefront of the Anti-CAA riots. He and his Organization Karwan-e-Mohabbat had been particularly engaged in the Shaheen Bagh protests. He has also been associated with the Open Society Foundations.
His participation in provoking the anti-Hindu Delhi riots. Most notable is the violence near the Jamia Millia Islamia campus in December 2019. Pratap Bhanu Mehta is another member of the Namati Board of Directors. Soros also has ties to Yogendra Yadav, who was a professor at the Centre for the Study of Developing Societies in 2006.
Shekhar Singh claims to be an RTI campaigner and former lecturer at St Stephen's College, University of Delhi. He is also in Indian Institute of Public Administration, New Delhi and a George Soros beneficiary. Singh is also a member of the Soros network due to his status as an Open Society Fellow.
Basharat Peer is an author and journalist. He is renowned for peddling a pro-Pakistan narrative in Kashmir. He was an Open Society Fellow in 2009 and 2010. Journalist Chitrangada Choudhury has been a part of Open Society Fellow since 2014.
Conclusion
George Soros had a record of undermining democracy, bringing about regime changes, and interfering with voters' free decision-making.
It was revealed in a trove of internal papers published in the aftermath of Elon Musk's takeover of Twitter that a group (First Draft News) sponsored by the Open Society Foundations (OSF) assisted in concealing the notorious Hunter Biden story. This action alone had an influence on the outcome of the 2020 US Presidential elections.
The savage BBC programme, the Hindenburg Research study, and George Soros's involvement in the anti-India campaign are not coincidental. As seen above, there is more to it than meets the eye.
---
References