Today, at the early dawn, Heeraben ji, mother of Prime Minister Narendra Modi went to the heavenly abode of Ishvara, after completing 100 years of age. Heeraben is the symbol of resilience and humility and her impact on Narendra Modi's life is clearly visible.
A Life of Struggle
At this vantage point, it becomes important for us to remember how the struggles of one's parents shape ones future. While Heeraben herself had lived a very humble and challenging life she taught her children to face challenges head on. Narendra Modi recalls the life of her mother, on her 100th birthday, which was this year on 18th June that she was bereft of her mother at a very early age. She never remembered the warmth of being with her mother. However, she was a wonderful mother herself. She made sure all throughout her life that her children lead a good life, though not very affluent.
Prime Minister @narendramodi Carries the Mortal Remains Of his Mother #Heeraben Modi. pic.twitter.com/GIFplpsIZi

— All India Radio News (@airnewsalerts) December 30, 2022
Heeraben made sacrifices to bring up her children in the best possible way and relentlessly worked to earn a meagre livelihood. This amount of humility and the acknowledgement of poverty, struggles and challenges is clearly visible in the actions and policies of Narendra Modi.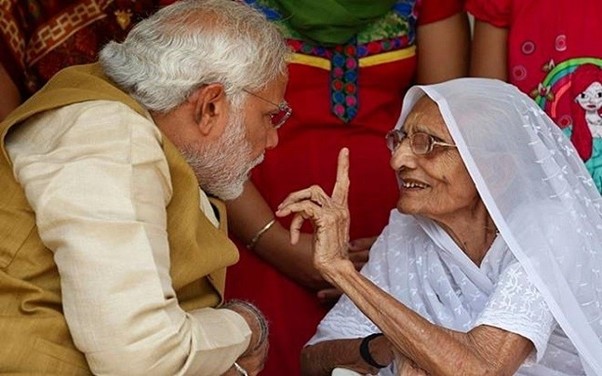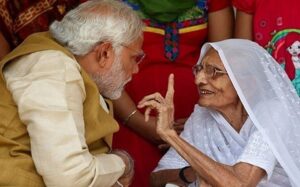 Instilling Values and Guiding Light
"In my mother's life story, I see the penance, sacrifice, and contribution of India's matrushakti. Whenever I look at mother and crores of women like her, I find there is nothing that is unachievable for Indian women,"
Through this statement one can fathom the amount of contribution Heeraben Modi had on her son's life.
Mother is considered the first Guru, and remains till end. Heeraben always told Narendra Modi to work for the poor and bring them out of their sufferings.
Narendra Modi's life is an example of struggles and challenges, and rising to the heights of power. But remaining true to his roots and being grounded defines his impactful personality. The way he kept his family away from all the charms of being the most powerful leader of the country comes from the teachings of Heeraben.
शानदार शताब्दी का ईश्वर चरणों में विराम… मां में मैंने हमेशा उस त्रिमूर्ति की अनुभूति की है, जिसमें एक तपस्वी की यात्रा, निष्काम कर्मयोगी का प्रतीक और मूल्यों के प्रति प्रतिबद्ध जीवन समाहित रहा है। pic.twitter.com/yE5xwRogJi

— Narendra Modi (@narendramodi) December 30, 2022
We pay our tributes to Heeraben ji (Heeraba), for giving this country her 'Heera' (diamond) who is leading this country way forward and making Bharat proud again. Mothers are creators and the destiny of a nation is shaped by the vision, character building and values a mother instils in her children. Om Shanti!