As a stalwart leader who had a broad vision and was instrumental in building modern India's infrastructure, Atal Bihari Vajpayee was a pillar of national strength. A leader with unbiased religious leanings, Atal Bihari Vajpayee was dedicated to developing India's Dharmic Sanskriti. It was critical to him that modern Bharat be developed with Sanatani roots, a point he did not compromise on.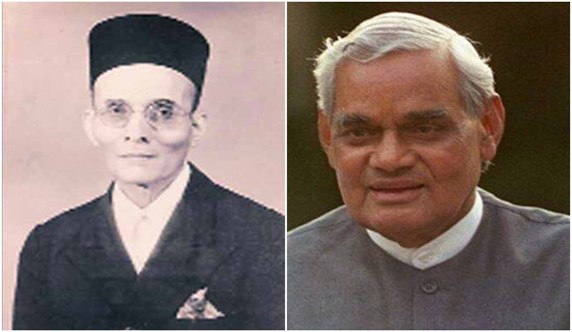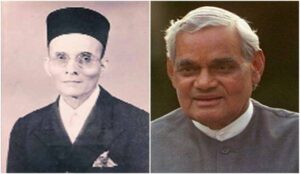 Atal Bihari Vajpayee drew inspiration from India's rich history and had strong foundational and core values. His thoughts were shaped by the actions and decisions of influential leaders such as Veer Savarkar and Bose. Vajpayee Ji held Veer Savarkar in very high esteem and adulated him. Veer Savarkar's contribution against fighting the antagonistic and fiendish colonial forces was impeccable. Savarkar was an Indian who believed in Hinduism and opposed divisive and secular forces.
Vajpayee's Immense Respect And Views On Savarkar
An immaculate thinker and an exemplary orator, Vajpayee was filled with nationalistic fervor. The upcoming generations will be profoundly impacted by Veer Savarkar's thoughts and actions, he believed. Vajpayee saw Savarkar not as a product of thought, but as an ideology in himself.
Vajpayee attributed Savarkar's inspiration to the heroic freedom fighters in Indian history, but he became an inspiration himself. It was nothing short of a miracle that an 11-year-old boy displayed impeccable brilliance and undying love for his motherland.
A comparison was made between Savarkar and Tatva (elements), Tark (arguments), Tarunya (youth), Tej (brilliance), Tyag (sacrifice), and Tap (penance).
According to Vajpayee, Savarkar was an enigmatic figure who could weave words into poetry and convey his emotions in a meaningful way. Vajpayee was amazed by Savarkar's ability to blend imagination with pragmatism in his poetry. Vajpayee was left spellbound when he translated his poems from Marathi into Hindi, especially with his eloquent wordplay.
Vajpayee was also appreciative of the unprecedented qualities Veer Savarkar had imbibed. Savarkar was the epitome of being unapologetic, strong-willed, and uncompromising nationalistic values. It was his straightforward, and no-nonsense attitude coupled with his vision to build a nation on contemporary ideals that made him a social reformer. He unapologetically questioned the ills of society, which according to him were hindering India to achieve its true independence and power. He wasn't just a social reformer but a social molder, who addressed the flaws and could create a perfect vision for India. Savarkar was a man who stood for all, in a true sense, he stood up against ills pervading all communities. His ideals encompassed all and he believed in the idea of a compassionate India. Savarkar fought against social evils like child marriage and child widows which plagued society.
Savarkar Was True Nationalist
Savarkar has been portrayed vociferously by the secular-liberal gangs of India as a fanatic and rabid Hindu nationalist. But the reality was, that he was an individual with a very-balanced outlook and called out the ills of the Hindu society. He was aware of the weaknesses that Hindus suffered from and why they submitted meekly to the invading forces. He admitted that Hindus themselves were responsible for the civilizational slavery and their sufferings for centuries. Hindus were used as puppets by the foreign invaders because of their limited and egotistical behaviour and beliefs. The deliberate misconception of the Varna system drove a wedge between the people and further divided them. People were unable to speak for themselves as a result of the caste and class separation of society and the rigidity given to the existing structures.
Vajpayee emphasized the need of keeping in mind one's ancestry and cultural heritage. He highlighted that even if one changes their way of worship, their ancestry and heritage remain the same. India has a rich history of knowledge, siddhis, traditions, bravery, scientific breakthroughs, and progressive ideas. A country that disregards its past and lacks national pride and isn't proud of its identity eventually is bound to falter and won't prosper. Veer Savarkar was a Hindu nationalist but was not rabid, radical, and a hate preacher. He believed in an equal society where people wouldn't be discriminated against on the basis of their religion. He believed in a Hindu nationalist nation where equality and respect pervaded for all.
When Savarkar was wrongfully imprisoned close to the Andaman islands, he experienced extreme pain, suffering, and mental trauma at the time that he produced his poetry and ideas. However, his accomplishments and enormous sacrifice for the country had been purposefully ignored and concealed. Nevertheless, the political tides are constantly shifting and are evolving right now. Because of the societal awakening that has already begun, according to Vajpayee, the India that Savarkar envisioned is no longer a daydream.
Conclusion
Savarkar's conception of Hindutva was different from the limited notions of communalism and skewed secularism. His conception of nationality was centered on peace, cooperation, intelligence, and bravery.
Veer Savarkar inspired Atal Bihari Vajpayee to follow him, and he did so. He also tried to create a society that was tolerant of all people and based on Hindu beliefs. Veer Savarkar was the leader this country deserved but could not have, but his ideas, principles, and behaviors reverberate today, as well. Thanks to his publications, Savarkar's faultless legacy is still in existence now. India and its story have reached incredible heights under the leadership of great leaders like Vajpayee and Modi who have adhered to Savarkar's values, and the country is on the cusp of becoming a superpower.
---
References: