Indian secularism is ironic, biased, hypocritical, and baseless, especially for Hindus. Our original constitution never included secularism, but some Gandhian politicians introduced it later just to meet their political agendas. 'Ganga-Jamuni tehzeeb' is a farce reserved only for propagating the vicious agenda behind the Islamic hypocrisy of brotherhood. This secular play is only reserved for Muslims. Muslims expect to benefit from the freedom and democracy that they enjoy but they won't extend the same to others.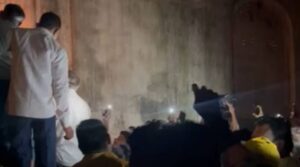 Bidar Incident
Hinduism exposes the sham of secularism as it is. It is convenient for Muslims to practice Namaz in our temples and worship areas, but what about Hindus? Muslims recently exposed their hypocrisy and fake face, so those singing 'Hindu-Muslim Bhai Bhai' should listen up. Nine Hindus were booked by the Bidar district police in Karnataka for merely praying in a mosque. Police took action after a video got viral showing Hindus praying at the Mahmood Gewan Madarsa and Mosque. The incident occurred on the 6th of October, during Dussehra. Hindus have been wrongly accused of breaking the mosque's locks and raising "Bharat Mata Ki Jai" slogans by the intolerant Muslim community.
The Muslim complainants continued to demonstrate intolerance. They have also threatened to escalate their protests on Friday if the accused aren't arrested.
According to reports, Hindus have been accused of offering puja, but no arrests have been made as of yet. It's not new for Hindus to perform puja on Dussehra near the Masjid every year, according to the IG Police, Gulbarga. Despite this, Muslims only decided to cause a ruckus and raise unnecessary controversy this year.
Visuals from historic Mahmud Gawan masjid & madrasa, Bidar, #Karnataka (5th October). Extremists broke the gate lock & attempted to desecrate. @bidar_police @BSBommai how can you allow this to happen? BJP is promoting such activity only to demean Muslims pic.twitter.com/WDw1Gd1b93

— Asaduddin Owaisi (@asadowaisi) October 6, 2022
There will be no objections or backtracking from any of these Muslims when it comes to performing Namaz in Hindu areas. In Gujarat's Dalvana village, an old Hindu temple was opened in April 2022, and Muslims were invited to break their Ramzan fast there and offer Namaz. The Hindus of Buladhshahr village of UP also offered temple premises to Muslim worshippers in 2018 for Namaz. There have been such instances, where Hindus have displayed a bigger heart, but what about Muslims?
Conclusion
Politicians who cry hoarse about Muslim victimhood and lack of rights never bring the same issue up for Hindus. Throughout history, Hindus have been victimized, as this incident proves. It is imperative that Muslims also embrace secularism, otherwise the present situation will become untenable. Hindus need to understand the reality behind this drama of secularism enacted by those with vested interests. If Hindus don't understand the reality behind the vicious face of these fanatic Islamists and seculars, then their future of living in a free country sure looks bleak. A result of their inaction at the right time.
---
References:
https://www.opindia.com/2022/10/bidar-karnataka-9-hindus-booked-puja-mosque-practice-done-every-year-details/amp/
https://zeenews.india.com/india/this-gujarat-temple-invited-muslims-to-offer-namaz-break-ramzan-fast-on-its-premises-reports-2452090.html