Khalistani hate preachers and separatists spewing venom and hatred against Hindus is nothing unusual. Shree Hanuman is their latest target, whom a hate-driven Khalistani terrorist called the 'First International Terrorist'. The hate-spewing terrorist not only insulted and mocked Hindu deities but also slammed those who called Bhindranwale a terrorist.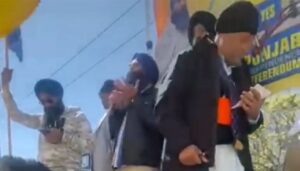 Insulting Shree Hanuman
In the video, the speaker makes illogical and baseless claims. He said, "If you and your media call our Sant Jarnail Singh Bhindranwale a terrorist, then you have to listen and answer. Your Hanuman was the first international terrorist. He crossed the border illegally. He did not take a visa or care about the sovereignty of another nation. He went to another country. He had a dispute with one person, but he burnt down Lanka. He scared the civilians, and you celebrate it to date in the name of Lanka Dehen. It was his personal dispute. When you call it (so-called Khalistan) our personal dispute, remember that it was your personal dispute. It was a personal dispute with Ravan. Why did you cause civilian causalities? You destroyed people's houses. You illegally crossed the border. You sent the world's first terrorist to another country, and you proudly remember it. You have to listen to this, and we will keep telling you."
Hanuman was first international terrorist who terrorized innocent civilians of Shri lanka thousand of them were killed. By hanuman their houses were burnt down by hanuman. And shameless people celebrate his cruelty and honor him every year pic.twitter.com/ZD3bXvDsXW

— pritam singh (@pritamskhalsa) March 26, 2023
This isn't the first time Khalistani separatists have abused Hindu gods. In April 2022, these Khalistanis abused and used shameful language against Maa Kali when they attacked her temple in Patiala. A protesting Sikh in a TV interview said "They should think (before speaking) about the Hindu religion. Khalsa Panth, which was established by Guru Gobind Singh Ji, is the master of all religions. Show these people of Haridwar Hemkunth Parbat (mountain) in Sarbloh Granth."
"Who were those bad guys on Hemkunth Parbat? Who forced your Durga to dance naked? Who saved her? Ask them. When rakshas looted Indra Dev's house and made Durga dance naked, who saved her?"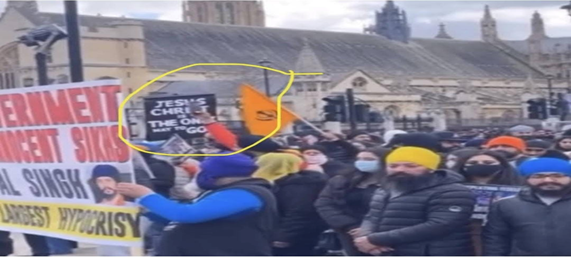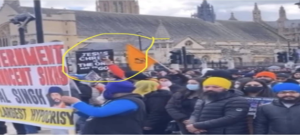 Conclusion
Khalistani Sikhs display a perverse and dirty mentality through cheap, vulgar, and misappropriated denigration of Hindus and their deities. By harboring hopes to divide India, they have crossed all lines of sanity. It amazes one how ignorant they can be to twist and turn facts, deviating completely from the true historical sources and accounts of the Sikh Gurus. Sikh Gurus were Devi worshippers and when Khalistani separatists share distorted facts, it's abominable and disgusting.
Isn't it strange how these Khalistani separatists speak in a tone similar to that of Islamic terrorists? It is obvious that these Khalistani terrorists can never face people on their own, so they always operate in mobs. Although it is unclear whether they supported Amritpal Singh or not. Khalistani leader Amritpal Singh is on the run and is now believed to be in Nepal. The mentality propagated by these Khalistanis is dangerous, but it shows that they cannot defend their views without resorting to violence.
The SGPC's direct support for the Khalistani movement has now been demonstrated by their support for the release of Amritpal's aides and their threat to the Punjab government. The people of India should be aware of the devious intentions of the Khalistanis and the SGPC. Hindus and Sikhs must know their real history, not the one distorted by the SGPC. Being aware and defending their identity is of the utmost importance in times such as these since Hindus and Sikhs are one.
---
Reference
Times Of India – 28th March, 2023