Recent times are seeing a lot of violence upon the Hindu community, specially living abroad in the United States, United Kingdom and Australia. The surprising fact is that the perpetrators of this violence are the Sikhs seeking the development of Khalistan. Their intolerance has peaked to the point of blatant violence upon the Hindus and desecration of our temples abroad.
Amidst this chaos, one has to but turn back the wheels of time to the emergence of Sikhism. While Sikhism was in its infancy under Guru Nanak Dev till the time it matured under the tutelage of Guru Gobind Singh, one factor remained constant – the reverence all the Sikh Gurus had for Hinduism and the Hindu Gods. In fact, it would not be wrong to even portray them as practising Hindus.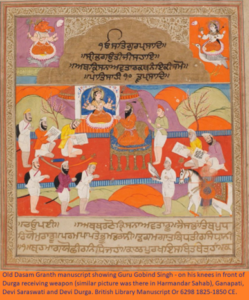 The Sikh Gurus
The Guru Granth Sahib is positioned at the centre of every Sindhi sect's Tikana or Mandir today, with all Hindu deities arranged around it, both in India and Pakistan. The extremists who are pushing their brand of Sikhism on non-Sikhs are aware that all ten of the Gurus conducted Bhagwan Vishnu Pooja rites, and that all Sikhs up to the 1900s followed likewise.
The Shaligram Shila, along with his mala, Rudraksha, Padam with his image, gold Coin from Shri Krishna's era passed down by his father, his pothi, and other items that Guru Nanak carried with him constantly are kept in Gurdwara Pothimala Sahib, Faridabad.
Guru Nanak worshipped Shri Hari in the Shaligram form, and all of these items are kept there.
In Sikhism, the Gurus appointed their successors and the tenth Guru compiled a Book – the Dasam Granth, which spreads over 1428 contains chapters on meditation, the praising of the Gods and Goddesses, specially Chandi – the Goddess of Victory, poems for Maa Durga. There are tales of chivalry from the Mahabharata, the narratives of the incarnations of Lord Brahma, Lord Vishnu and Lord Shiva. Unfortunately, the reverence of the tenth Granth is not popularised as such amongst the Sikhs in India or abroad.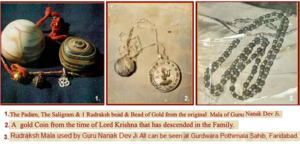 Up to the 1930s, all Gurdwaras, including Hari Mandir, contained Vigrahas, images, or paintings of Guru Nanak ji, Shiva, Vishnu ji, Hindu Devi Devtas, and others.
Hindu Roots of the Sikh Gurus
If they were not Hindus, why would Guru Gobind Singh recount Vanshavali of the Surya Vansh and the genealogy of all Sikh Gurus to Shri Ram's sons Lav and Kush in Bichitra Natak? Why would he write Chandi Charitra, Chandi di var- Devi Durga's attributes, Ugardantiinvocation of Devi in Her Ugra roop, Chaubis Avtar- of Vishnu ji , Rudra Avtar- Siva Avtars, Brahm Avatar in simple Braj Bhasha, call himself Devi Daas, invoke Devi/ Bhagauti first of all in Ardas- 'Pritham Bhagouti/ Bhagwati Simar Kai, Guru Naanak Layee Dhiyae' if he was so against Moorti Pooja and Hindu rituals?
If the Sikh Gurus were not Hindu, why would their names appear on Purohit routes at Hindu pilgrimage sites? In Guru Tegh Bahadur's own handwriting, the Bahi of Panda Ram Kishan of Triveni Sangam, Prayagraj, dated Samvat 1719, indicates that he was a "Sodhi of Kaushish Gotra, a worshipper of Naina Devi" and that his family Purohit was Pundit Bhoj Raj. On his journey back to Anandpur, the same Bahi had Guru Gobind Singh's signatures done. Pandit Datt Ram was recognised as his family priest, and he, like his father, provided instructions for their successors to attend Triveni Sangam to honour the Purohits designated by them.
On his route to Assam, Guru Tegh Bahadur performed shrddha in Gaya, receiving a janeu and giving dakshina to the Pundit.
According to Chakra Charu Chandrika, Guru Gobind Singh observed his father's shraddh according to Hindu customs.
In Rag Ramkali, Guru Amar Das instructs Pandit Keso Gopal to study Garud Puran and conduct Pind, pattal, kriya, diwa, and phull after his death. He also stipulated that his ashes be poured in the Ganga.
Guru Nanak, Guru Hargobind, Guru Tegh Bahadur, and Guru Gobind Singh's marriage ceremonies were performed according to Hindu rituals and began with Ganesh pooja, according to Bhagat Ratnavali, Gurbilas Patshahi Chhevin, Sausakhi, and Bhagat Bani about the Gurus instructing marriage according to Hindu rites performed by a pandit.
The separatists will still shroud the Hindu roots of Shikhs and spew their venom of hatred between the two. It is imperative under these circumstances that the truth be put out to the public so that the true nature and intentions of the separatists can be highlighted.
---
References