On the occasion of Netaji Subhas Chandra Bose's 126th birthday, the nation is celebrating the occasion in a variety of different ways. And on the day, Prime Minister has given a present to the country. 21 islands of Andaman and Nicobar are renamed on the Param Vir Chakra awardees.
Tribute to bravery and resilience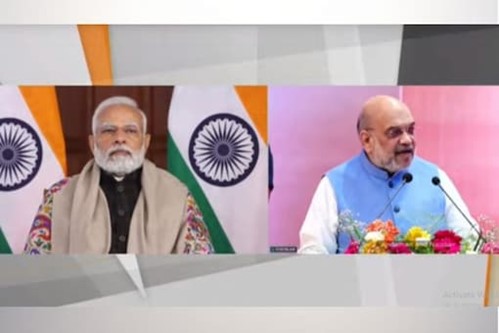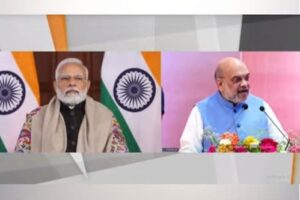 During the celebration of Parakram Diwas, Prime Minister Narendra Modi took part in a ceremony to give names to 21 of the Andaman and Nicobar Islands' largest unnamed islands. The names of the 21 recipients of the Param Vir Chakra have been given to each of the islands. During the event, Prime Minister Modi also inaugurated a model of a memorial dedicated to Netaji Subhas Chandra Bose. This model of memorial will eventually be located virtually in Andaman to celebrate the 126th birth anniversary of the freedom fighter.
The largest island is named after the first recipient of Param Vir Chakra award, Major Somnath Sharma. On November 3, 1947, Major Somnath Sharma, was killed in action while repelling Pakistani infiltrators near Srinagar Airport. He was posthumously awarded the medal.
Naming of 21 islands of Andaman & Nicobar Islands after Param Vir Chakra awardees fills heart of every Indian with pride. https://t.co/tKPawExxMT

— Narendra Modi (@narendramodi) January 23, 2023
In 2018 too, PM Narendra Modi renamed Ross islands as Netaji Subhas Chandra Bose Dweep. Neil and Havelock islands were given the name Shaheed Dweep and Swaraj Deep respectively.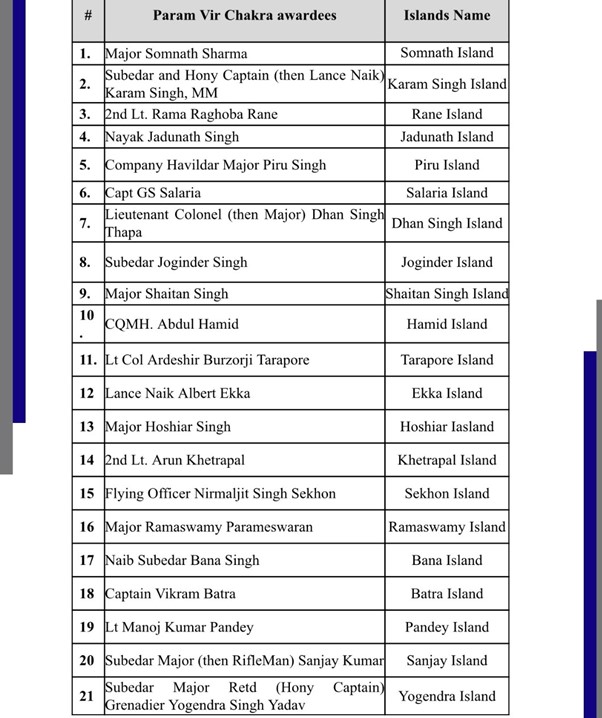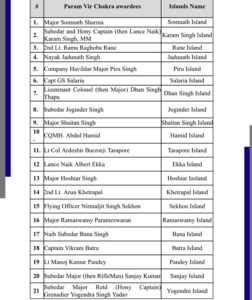 On this occasion, statement from the PM released, stated,
"This will be an everlasting tribute to our heroes, several of whom had made the ultimate sacrifice to protect the sovereignty and integrity of the nation".
Conclusion
Andaman and Nicobar Island have a very direct relationship with the freedom movement. The islands are a testimony to the struggles and plight of the revolutionaries who spent years in the Cellular Jail of Andaman. Veer Savarkar and his poems written on the walls of the jail reverberates with the desire of freedom of Bharat. The fact that Netaji is directly connected to Port Blair gives it a great deal of significance. Port Blair is the capital of the Andaman Islands. After taking down the British Union Jack on December 30, 1943, Netaji proceeded to raise the Indian Tricolor flag. This historically significant island is brimming with natural beauty in addition to its rich past.
---
References-