Theyyam, which has its roots in the northern part of Kerala, is a well-known ritual art form that dramatizes important historical events and myths from our region. Theyyam is the dance of divine not just a folk art. After the release of Rishab Shetty's movie Kantara, people have been moved to the divine essence of Bharatiya spirituality. Like Bhoota Kola, every local culture, region have those deities and rituals which directly connect with the ultimate. Theyyam is one such celebration of divine in the northern parts of Kerela.
As an Art
The art form incorporates moving and making noise. There's a lot of emphasis on the ancestor worship and hero worship that was common among ancient tribal peoples, and that's celebrated here. Musicians play the Chenda, Elathalam, Kurumkuzal, and Veekkuchenda in unison to accompany the ritual dance. Over 400 unique Theyyams exist, each with its own set of songs and dance moves. Raktha Chamundi, Kari Chamundi, Muchilottu Bhagavathi, Wayanadu Kulaven, Gulikan, and Pottan are among the most well-known.
There is a powerful hero embodied in each creative individual. The performers are decked out in garish garb and a lot of makeup. The ornamentation on the hats and headscarves is truly magnificent, inspiring admiration and awe. Numerous temples in Kannur and Kasaragod host performances of the Theyyam dance form every winter, from December to April.
There are over four hundred different forms of theyyam, each with its own set of rules for costume, instrumentation, and movement. Vishnumoorthi, Gulikan, and Kuttichathan are three of the most well-known theyyams.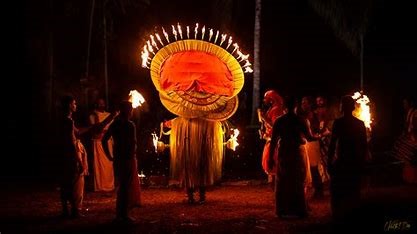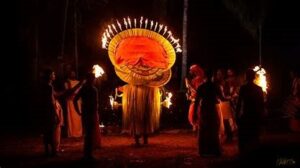 Spiritual Essence
During a performance, the artist is seen as embodying a higher power. Commonly used to refer to God, "Theyyam" is a staple of local language. There are millions of people in Kerala, and for them, Theyyam is a way to connect with the Gods and Goddesses. Usually, the ritual takes place in a village's tharavadu, or ancestral home, or in a sacred grove known as a kaavu. Traditional Theyyam performances in Kerala begin in October and continue through May.
Hindu mythology holds that the theyyam was bestowed upon the people of North Kerala, particularly the Malabar region, by Parasurama, the sixth incarnation of Lord Vishnu.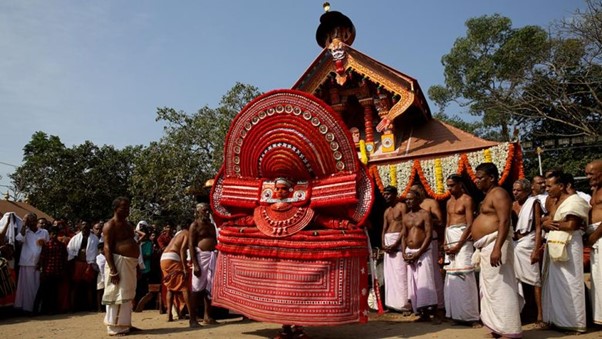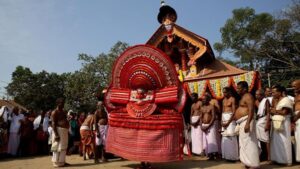 Preparations to become a theyyam starts at a very young age. It can dancers take years to master the complexity of face painting, and making costumes from coconut husk.
Bhagavathi is the prime deity of the whole ritual. This dance of divine is the primal and fundamental aspect of connecting with the Mother Goddess.
Every part of the country has a special connection with the great Mother and these rituals, Navratri pujan, Kaali pooja makes this connection strong. Theyyam is part of such Bharatiya culture which is going on since millennia and will continue further on till more millennia.
---
References-