The story of Jhalkari Bai is one of valor and loyalty. She bravely fought against the brutal and cunning British empire. Despite coming from a humble background, she became Rani Laxmibai's advisor. Along with being an able leader, commandant, friend, and savior, she was also a woman of grit and determination.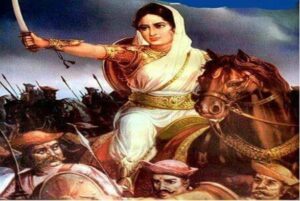 Jhalkari Bai's Story
Jhalkari Bai was born on 22nd November into a poor Kori family (Dalit), near Jhansi. Her parents were Sadoba Singh and Jamuna Devi. Her mother passed away unexpectedly, and she was raised solely by her father. Due to financial limitations, she wasn't able to study formally, but she learned weapon-wielding and horse-riding skills at a young age. Her stories of fearlessness and valor were well known throughout Jhansi.
Jhalkari Bai's life was forever changed by a chance meeting with Rani Laxmibai. Jhalkari Bai married Puran Singh, a soldier in the queen's army. Puran Singh was known for his bravery and caliber, which led to him gaining immense recognition.
Jhalkari Bai and various other women from her village went to the fort once during Gauri Pooja. Seeing her, Rani Laxmibai was astonished by her appearance. The uncanny resemblance between Jhalkari and herself awed her. After finding out about her acts of bravery, she enquired about her and was immediately enrolled in the women's wing of the army. As the forces prepared to defend against the British, she was trained here to fire and ignite the cannons.
For Indian independence, the battle of 1857 turned the tide. The Battle of 1857 started with the Sepoy Mutiny on May 10, 1857, in Meerut. In North and Central India, several rebellions erupted following the battle. The battle of 1857 was termed the first war of independence. Rani Laxmibai was among those who valiantly fought the British forces in Jhansi during this rebellion. To end the mutiny in Jhansi, Field Marshal Hugh Henry Rose, 1st Baron of Strathnairn, attacked the city in 1858. In the face of this imminent attack, the queen of Jhansi valiantly led her 4,000-strong army against the British forces from her fort. Sadly, Rani Laxmibai could not hold on to the fort for long due to a betrayal by one of her commanders. The change of events forced Rani Laxmibai to quietly leave Jhansi, as advised by her generals.
Jhalkari Bai's Unsung Valor
As soon as Jhalkari Bai saw the entire scenario, she made an on-the-spot decision to save the situation. Due to her uncanny resemblance to the queen, she quickly disguised herself as Rani Laxmibai. After taking charge of the battle, she rushed directly to the General's camp and demanded he faces her. Her goal was to keep the enemy forces away so that Rani Laxmibai could escape.
Seeing Jhalkari Bai, even the General was confused by her uncanny resemblance to Rani Laxmibai. For Rani Laxmibai, this confusion provided her with a day to plan effectively. In his assumption that she was the queen, the General asked what punishment should be meted out to her. Looking directly at him, she unflinchingly told him to hang her. She was said to have been admired by the general for her demeanor and valiance. He said that even if one percent of the Indian women were like her, then the Britishers would lose.
The next day, a local man, Dulha Joo, identified Jhalkari Bai, and this made the British aware of the truth.
Conclusion
There hasn't been enough emphasis placed on Jhalkari Bai's courage, quick wit, and strength in modern history. She was a female warrior who made an important decision at the right time, which changed the course of history. Both Rani Laxmibai and Jhalkari Bai are rightfully regarded as 'Veerangana's'. Indians will forever be indebted to their penultimate sacrifice and their valiant fight against the ruthless British forces. The life and times of Jhalkari Bai are an inspiration to all of us because she was a strong-minded and decisive woman. Defending the right is a skill that girls must learn from the heroic female warriors of the past.
---
References: