Rani Laxmi Bai of Jhansi is a legendary figure of Indian history who played a remarkable and decisive role in the 1857 war against the British Raj. In a short span of life she achieved great fame through her valour and indomitable spirit.
Early Years
Born in the house of Brahmin Moropant Tambe, Rani Laxmi Bai's childhood name was, 'Manikarnika'. Her father was a courtier of Peshwa Baji Rao II, who used to dearly call
Manikarnika as 'Chabili'. Along with Nana Saheb, Rao Saheb and Tatya Tope she received holistic education from martial arts to all kinds of scriptures. She was always full of vigour and passion for the country and her history.
Eventually, at the age of 14, she got married to the king of Jhansi Gangadharrao Nevalkar and was given the new name, 'Laxmi Bai'.
Life In Jhansi
After losing her husband at the age of almost 19 years, she had to face many turbulences in life. As a queen, as a mother and as a woman her life was full of challenges. But she never digressed from any of the calamities before her, rather she faced them head on. These capabilities make her a unique figure in the history of India.
Under the Doctrine of Lapse, her adopted son Damodar Rao was deprived of the kingship of the state of Jhansi. However, Laxmi Bai was given the authority to reign as a patron to the toddler prince. She was given annual pension by the British. All these events were humiliating to her sense of pride and love of her own soil. All across the country many such princely states were hit by this power-hungry tactics of the British. This made her even more antagonistic to the British. But practically there was so much less resources and power on her side that waging a war against British was nothing more than suicide.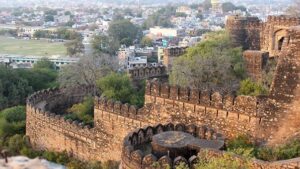 However, she kept ruling like a loving mother and held the power of administration, justice and welfare of the people of Jhansi in her own hands. She was deeply revered and loved by her subjects. Though she was exiled from the fort, she kept living in the 'Rani Mahal', a villa in the Jhansi city.
Role in 1857 War
She caught the great opportunity to get back her Jhansi in the boiling anger of the Indians against the British. Along with Nana Saheb, Tatya Tope, Azimullah Khan she took the leadership of waging a war against the British.
General Hugh Rose came to Jhansi with his force to take upon the authority and dismiss Rani Laxmi Bai from her authority. But she bravely refused, and announced a war against the British. Her golden words were full of valour and depth-
"We fight for independence. In the words of Lord Krishna, we will if we are victorious, enjoy the fruits of victory, if defeated and killed on the field of battle, we shall surely earn eternal glory and salvation."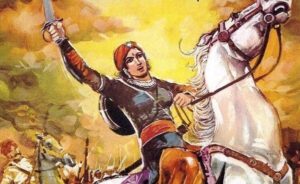 The battle went on for almost two weeks, but her army lost Jhansi. It was a battle which was equally fought by the women army of Jhansi. This is an example of Rani Laxmi Bai's exemplary vision and leadership. Under all these hardships, she encouraged, trained and formed a troop of women soldiers. Jhalkari Bai was a great martyr of that troop.
Rani had to move to Gwalior leaving Jhansi to save her life, so that she can continue fighting if the revolting soldiers and other princely states were able to win over the British. But on June 18th she died fighting valiantly in Gwalior.
Even Sir Hugh Rose commented on her,
"Remarkable for her beauty, cleverness and perseverance, she had been the most dangerous of all the rebel leaders. The best and bravest of all."
She is a champion in life, where she never failed to fulfil any of her roles. Her life is an inspiration to so many women. Rani Laxmi Bai is a bearer of the tradition of amazing warriors of Bharatvarsha and does glorious justice to that tradition.