While Jammu and Kashmir is going through major shift in several decades, the dynasts are getting restless. Mehbooba Mufti who is the former Chief Minister of Jammu and Kashmir is campaigning in Jammu. The Hindu dominated Jammu is now under the administration of the Central government. This has become a major blockage for the pro-Pakistani politicians of Jammu and Kashmir. Therefore, Mehbooba Mufti is shape shifting and showing an uncalled for sympathy with the Hindus.
Mehbooba visits Jammu
In about five months this is the first time Mehbooba Mufti visited Jammu. She tried her best to malign BJP and connect with the locals of Jammu. She made contrary remarks on Hindu Rashtra.
This shows that she is more threatened by the Hindu awakening rather than BJP administration. While, she was insistent on saying that, "The condition of Hindus who do not vote for BJP will be worse than Muslims."
She forgot her own regime. She also tried to dissuade people from the idea of abrogation of article 370. She pointed it out to be politics of polarisation. Moreover, she added that BJP is controlling all the resources and local industries and youth are still unemployed.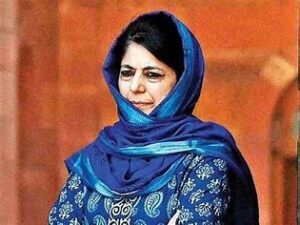 All her words were mere fakery which though everybody knows. These politicians forgot the dark era of Kashmiri Hindu genocide and now trying to barge in the process of reconstruction of Kashmir.
Hypocrisy at its peak
Last month she said in a rally in Kashmir that BJP is going to change the tricolour to saffron. Her venom against the 'Hindu Rashtra' and all such statements clearly show that her separatist agenda is failing. Mehbooba Mufti and Abdullah family ruled this state for long enough years and looted it to its core. But now, since they are bereft of any share in the property of the people, they are going mad. Their relevance is vanishing, while their political career is also shattering. In Jammu they already have no existence, but the venomous statements ensure their agenda driven politics. Separatism and Breaking India mindset is their foremost target to achieve. While lingering on their political facade, they can guarantee some funds from their handlers outside India, by using such statements.
Conclusion
Jammu and Kashmir is not just a territory of India which got strangled by the terrorists. This place is the seat of Hindu civilization. It is the highest seat of Mahadev and Devi. The way this punya-bhumi has been mutilated needs great commitment to be rebuilt with the trust of the people. While hypocritical political faces like Mehbooba Mufti sing-song about Kasmiriyat, they forget that Kashmir is of 'Rishi Kashyap'. There is nothing like 'Kashmiriyat'.
---
Reference-