The organization 'Waris Punjab De' that was involved in yesterday's ruckus in Ajnala was founded by the late actor Deep Sidhu and has gained immense popularity among Khalistanis. The organization has been led by Amritpal Singh since Deep Sidhu's death in 2022. It's to be noted that Amritpal Singh and the proclaimed Khalistani terrorist Jarnail Singh Bhindrawale preached Khalistani ideas and thoughts in their early days in the same way.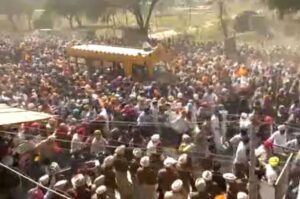 Amit Shah was threatened by Amritpal on the 21st of February, that he would face a similar threat to Indira Gandhi. He said, "Indira tried to suppress, what happened? Now Amit Shah can fulfill his wish and see". He further said that Shah would be taken down if he stands in the path of the Khalistani movement, "Amit Shah had said that he won't let the Khalistan movement rise. I had said that the same was done by Indira Gandhi and if you do the same then you'd have to face consequences. If the Home Minister says the same to those demanding 'Hindu Rashtra', then I'll see if he remains Home Minister".
The Ajnala Incident- Ruckus Created By The Khalistanis
After the alleged 'peaceful protests' led by Khalistani leader Amritpal Singh in Ajnala, the Punjab Police surrendered and canceled the FIR against Singh's close aide, Lovepreet Toofan, and will release him today, in a 'not-so-surprising' turn of events. As per the Commissioner of Police Amritsar, "As per the evidence presented before us, Lovepreet Toofan will be discharged. SIT constituted to investigate the case," said SSP Amritsar to ANI.
"They have given enough proof that he (detained Lovepreet Toofan) is innocent. SIT has taken cognizance of it. These people will peacefully disperse now and the law will take its own course".
As per the evidence presented before us, Lovepreet Toofan will be discharged. SIT constituted to investigate the case: SSP Amritsar pic.twitter.com/pNtTzSumt4

— ANI (@ANI) February 23, 2023
Chamkaur Sahib resident Varinder Singh filed the complaint that sparked the entire controversy. During his trip to Ajnala for a spiritual event, Varinder accused Amritpal Singh and his followers of abducting and attacking him. As a result, Amritpal denied the accusations and called him a mentally unstable person who made derogatory statements against him and his Jatha. Amritpal then asked his supporters to show up in large numbers at the police station to ask for the FIR to be withdrawn.
Don't get amazed to see this, AAP party was funded for Punjab elections by #Khalistan supporters to unstable Punjab.

That's what happening after winning of AAP.

What is so shocking in it? #GautamDasModi pic.twitter.com/hmFsOs80Gf

— Ayush Jain (@aestheticayush6) February 23, 2023
Khalistan supporter Amritpal Singh worked in transport business in Dubai & came back only in 2022 and became head of 'Waris Punjab De' organization.

Today, mob attacked Ajnala police station in Amritsar, Punjab & demanded the release of Lovepreet Toofan (close aide of Amritpal). pic.twitter.com/yV9RYFlGMA

— Anshul Saxena (@AskAnshul) February 23, 2023
His followers subsequently staged 'peaceful' protests throughout the city using lathis, guns, and swords. Both the police and the people were damaged by this unruly behavior. This use of brute force to demonstrate their power at any point in time is extremely shameful and speaks volumes about law and order in that particular region. According to SAD leader Harpal Singh Blair, the case should not have been filed in the first place. He said, "We came to talk to Admin that FIR has been registered against Lovepreet Toofan. It also included Amritpal Singh's name. No false case should've been registered. Admin accepted Lovepreet wasn't involved, so they'll release him tomorrow and cancel the FIR".
-Amritpal Singh : I'm a Khalistani, fighting for seperate khalistan. HM will have same fate as Indira Gandhi (threatening for his assa$sination)

-Punjab Police: You're innocent, you can go home now. pic.twitter.com/RMSwEGCPgR

— Mr Sinha (@MrSinha_) February 23, 2023
Conclusion
There is a great deal of shame in the unbridled support these Khalistanis have received from all political quarters. These political parties align with and support anyone in order to ensure they have a large vote bank. The Khalistanis have reached this point where they are causing immense destruction in open daylight, without any remorse, with the help of political parties and funders like Soros. From the way the Khalistanis are operating before the upcoming elections, it is evident that they wish to oust Modi as PM. Islam and Christianity are spreading due to the Khalistanis' devious agenda of dividing Hindus and Sikhs. Until the Central government and security agencies take adequate and stringent measures against such elements of society, its repercussions will prove scary for the entire country.
---
Reference: