Apparently, Sufism has had a profound impact on Bollywood, influencing everything from the themes explored in movies to the music and poetry used in soundtracks. Bollywood's fascination with Sufism reflects the enduring influence of the Sufi branch of Islam on Indian culture and art. But the actual question is, is the fascination right? Does it make the film industry and Bharat's culture inclusive? Let us explore why adding Sufism is a successful socio-cultural formula for Bollywood. And why it has brought irreversible socio-psychological perversion and ignorance?
Bollywood wears Sufi 'Jama'
One of the most famous Bollywood movies that incorporates Sufi themes is the 2006 film "Fanaa," directed by Kunal Kohli. The movie tells the story of a young woman named Zooni, played by Kajol, who falls in love with a Kashmiri tour guide named Rehan, played by Aamir Khan. The movie's soundtrack features several Sufi-inspired songs, including "Chand Sifarish," which incorporates Sufi poetry into its lyrics. The movie supports and sympathise with Rehan, who was a terrorist.
Another example of Sufism's impact on Bollywood is the 2015 film "Bajirao Mastani," directed by Sanjay Leela Bhansali. The movie tells the story of the legendary Hindu warrior Peshwa Bajirao. The movie's soundtrack features several Sufi-inspired songs, including "Aayat," which is based on the poem "Aashiqana Qawwali" by Amir Khusro. That seems very odd, that a movie on a great Peshwa of Hindawi Swarajya is replete with Sufi themes.
Islam in the guise of all-pervading Love
Sufi music has also had a significant impact on Bollywood, with many Bollywood movies featuring Sufi-inspired songs. One of the most famous examples of this is the 2016 film "Ae Dil Hai Mushkil," directed by Karan Johar. The movie's soundtrack features several Sufi-inspired songs, including "Bulleya" and "Channa Mereya," which incorporate Sufi poetry into their lyrics. Many Bollywood movies, including "Jab Tak Hai Jaan," "Rockstar," and "Tamasha," have explored the theme of love as a spiritual journey, inspired by Sufi philosophy. "Rumi ne ek baar kaha tha, ki jiske dil mein mohabbat hai, usko sirf ek baar zakhm milega" – from the movie "Rockstar"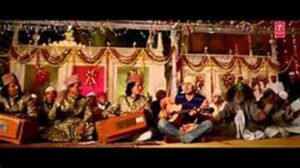 This dialogue is a quote by the Sufi poet Rumi. The dialogue reflects the Sufi philosophy of love which actually a farce in reality. The recent so called Blockbuster, 'Brahmastra' which portrayed an astra-verse inspired from ancient Bharat. But in reality the movie was initially scripted to be based on Jalaluddin Rumi's philosophy. However, the ending of the movie was on the same lime. The movie hails love as the ultimate weapon in the world. Nowadays, a Bollywood movie is totally incomplete without a Sufi tadka.
Successful Sufi formula
How employing Sufi formula became a go- to idea for Urduwood?
The love for Sufism arises from the unacceptance of Sanatan values. We can trace how the Hindi film industry changed its course over the years. From Raja Harishchandra to Pathan, this trail is interesting.
Mughal-e-Azam (directed by K.Asif, 1960) and Mother India (Mehboob Khan, 1957), which are considered as the 'Gems of Bollywood'.
These movies are the breakthroughs in turning the cultural patterns followed in film industry. Such movies set the agenda of a 'Secular' India promising to glorify which was filthy. Contrarily, demonise which was pure and truthful. These movies have such a lasting impression on Indian audience that we ignore to testify what is shown. All along, as audiences we have started to respect the creative liberty of the filmmaker. But on the name of creative liberty Bollywood openly supported agendas. In Mughal-e- Azam while Akbar has a Sufi side bowing down before Salim Chisti. In Mother India, the poor woman is mistreated by a Lalaji adorning a shikha; representing evil Hindu upper class!
Soft- Islamic influence
Sufism comes as a rescuer of this of cultural-moral depravity according to Bollywood. Because Bharat for these Islamic-Marxist cabal is uncivilized and filled with nasty Hindu ideals. Kshatriyas are robbers and Maa Kaali is the deity of the evil. This showcasing has supplanted a vacuum of good characters. To fill this vacuum, creeps in the idea of love and mysticism with Sufism.
Now, Sufism makes place as a clean mask of Islam. That makes Dargahs the soothing places to revive people of a depressing life, but temples are the place to challenge the Ishwar. The atrocities one faces in life are due to Bhagwan, while dua and dava are because of 'Allah ka Karam'. This soft-Islamic approach of Bollywood played a well-designed game of shoving off the realities of Islamic brutalities on Hindus.
We forget that Sufis broke innumerable temples in Bharat and converted Hindus to Islam. The Chamundi Temple, Mamaleshwar temple, Bhuteshwar Temple and many more got ruined due to Sufis.
Conclusion
This systematic acquisition of Sufism in the mainstream life of Indian got a surge with Bollywood fever. Thus, when the generation after 1980's completely forged from the truth and adopted Bollywood as their role-model. Then, Sufism established itself as the lovey-dovey go-to solution s from all the problems. But, at this point of time it becomes imperative to revive what is deliberately lost. Therefore, Hindus must make use of the repository of the information and dismantle the Urduwood agendas as soon as possible.
---
References-