Fortune favors the brave, and is it true? Yes, it is. The case in point is Annamalai of the BJP. Recently, Annamalai released the explosive The DMK files part-1. The DMK Files expose the dirty deeds and massive corruption of the DMK party of Tamil Nadu. Under the guise of Dravidian politics, the DMK heirs continue to play a dangerous game of politics, power, and corruption.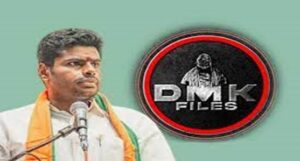 Tamil Nadu's active conversion game is nothing new, but is it anything to be surprised about? Indeed, it is. A state so rich and full of our native cultural practices and traditions is now falling into Christianity's fold. Why isn't it obvious that areas once densely populated with Hindus now have Christians in the majority?
Annamalai's Political Extravaganza
Annamalai, a former IPS officer of the Karnataka cadre has now become a reckoning force within the BJP and among the general public. He had an untarnished image, being non-corrupt, and a strict no-nonsense attitude officer. Annamalai took on crime and criminals unflinchingly and never let his humble roots become an excuse to be corrupt.
Popularly known as 'Singham' among the masses, Annamalai's actions built an impressive reputation for him and a legacy to carry on.
A few months ago, Annamalai was called out for wearing an expensive watch, in a bid to tarnish his image. The incident ignited a fire that is now haunting the DMK. A territory that DMK thought no one would ever be able to breach has been breached by Annamalai. An arrogant ideology, self-entitlement, hypocrisy, and corruption characterize the DMK. Despite DMK's ignorance, Annamalai is a rising star in Tamil Nadu, enjoying massive popularity.
BJP officials didn't target DMK leaders but highlighted their business ties instead. This BJP strategy didn't allow opposition parties to call this action a political vendetta. Now, instead of targeting DMK officials, the BJP is focusing on G-square. In a strategic move, the BJP has targeted the underlying corruption propagated by the DMK. DMK has channeled corruption money through multiple channels, including G-Square. Although they could have targeted Red Giant, they chose not to, since it is directly associated with Udhay.
In spite of their usual overconfidence and arrogance about their position in the state, they had little idea of the trap they were falling into. Annamalai cleverly crafted a web, wherein the Maran family willingly fell into. This haste of being over-smart led G-Square to disclose that they were not affiliated with the Maran family. This has given Annamalai a direct line of attack, preventing the DMK patriarchs from claiming witch-hunting.
Hence, IT raids can be conducted without political pressure, allowing a variety of unscrupulous links to be unearthed. Since the financial violations are of a huge scale, IT officials will have to track down a trail of these violations. Documentation of the flow of money through these 100+ shell firms can be found in bank statements and ROC filings.
Conclusion
As the party faces a dilemma of owning up or not, the writing is on the wall. It will be a huge financial setback for the Marans if a direct link is established between the family assets and the corruption trail. Maran's family has gotten themselves into a mess from which they cannot escape. By fanning separatist and hate-based sentiments, the party has ruled Tamil Nadu for decades. They are political kingpins of the state because of the dirty political slugfest they created. Maran's interests range from Bollywood to cricket… one wonders how far their tentacles reach.
It is now time for a man who was mistreated by the Marans to expose the dirty nexus of power, crime, and corruption within the DMK (The DMK Files). Using national interests to advance their own personal ambitions, the Marans targeted Hindus and Hinduism. The Karmic cycle shall return, it's all for one to wait and watch.
*(This article draws inspiration from- https://twitter.com/Saarval/status/1650790904897351680)