Most wanted terrorist of India, Syed Salahudeen's sons property is attached by the NIA. The strike on terrorists under the economic breakdown of terror funding is continuously going on in the valley. Therefore, under the same course of action, National Investigation Agency put the notice on Monday, regarding the same.
What Is The Issue?
The head of deadly terror group Hizbul Mujahideen, Syed Salahudeen's two sons' properties have been attached. This action was taken in the Budgam and Shringar districts of Jammu and Kashmir.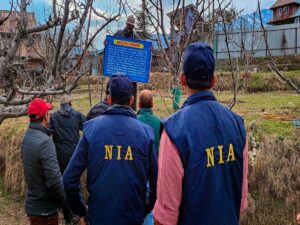 Shahid Yusuf and Syed Ahmed are already detained in Delhi's Tihar Jail. In 2017, Shahid Yusuf was arrested and in 2018 Syed Ahmed was arrested by the police.
As we all know taht Pakistan is the terror corridor and the terror funding is also done across the Pakistan borders.
So, to breakdown this funding process it is important to confiscate all that is related to terrorists circles.
What Are Properties Attached?
NIA attached the house in the Rambagh area of Srinagar. This house was registered under the name of Syed Ahmed Shakeel, the elder son. Thus, on the court orders the properties have been attached under the Unlawful Activities (Prevention) Act.
In Budgam district the agricultural land of around 10,880 square feet.
Along with that 6 shops are also attached.
Most Wanted Syed Salahudeen
India has given the tag of most wanted terrorist of India to Syed Salahudeen in 2020. However, he had fled to Pakistan in the year 1999. This shows that terror outfits are still working using the properties under their master's name. But, slowly the process shall be paced on so that we can dismantle the terror world operating in India.
This move comes at a time when the last week our 5 soldiers martyred in the terrorist attack.
---
Reference