How long are we willing to turn our backs on reality? When will Hindus wake up from their self-imposed deep slumber? We have been blinded by the veil of secularism. How long will it be before we understand that Muslims were not, are not, and will never be our friends or well-wishers? Why is it taking so long for Hindus to understand that if these rabid Islamic hardliners aren't stopped immediately, terror will become the norm of the day?
As we revisit the year 1990, we can recall one of the most horrific, brutal, and indescribable acts of ethnic cleansing in human history. Girija Tickoo was one of the unfortunate victims of these savage, blood-thirsty Islamists. It is unfortunate that this young lady was not as shrewd and cunning as her attackers, which led her to become a victim of their vicious agenda to fulfill their Quranic principle of killing the 'Kafirs' and to establish their political order as envisioned by their Nizam-E-Mustafa.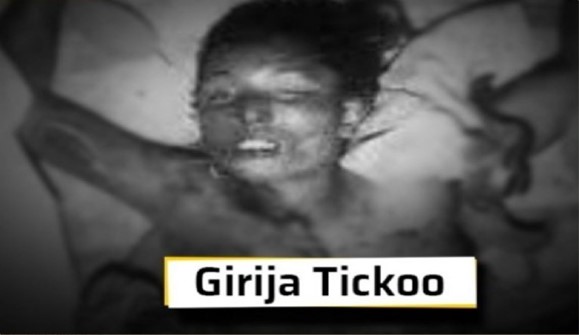 On the fateful night of 25th June, 1990, when the Pakistan sponsored terrorists' unleashed unspoken atrocities on the Hindus of the valley, Girija Tickoo paid the price for being a Kashmiri Hindu 'lady.' Girija Tickoo 's case is spine-chilling and puts humankind to shame. Girija was a married lady from Bandipora, working as a lab assistant in the Government High School in Trehgam in the valley. After the 'Azadi Movement' was initiated by the JKLF militants, headed by Yasin Malik, she and her family fled to Jammu.
It all began when she received a phone call from someone telling her that communal tension had subsided in the valley, and that she should collect her salary dues. There were assurances of her safety during her trip and her safe return to her home. As she was back in that area after a long time, when she reached the valley in June 1990, she met a local Muslim acquaintance of hers. This was after she had collected her salary. Unbeknownst to her, she was being pursued by militant Muslims. She was immediately kidnapped by the militants as soon as she stepped out of the house, and taken to an unknown location while blindfolded. It was not surprising that no one dared raise a voice, including her old Muslim acquaintance. This is because she was a Kafir who was kidnapped and she rightly deserved this treatment.
Days later, her horribly deformed and mutilated body was discovered on the side of the road, revealing very disturbing, inhuman and gory details. The inhuman barbarians gang-raped her for days at a stretch, brutalized, tortured, and beaten her, and then cut her body into two halves with a mechanical saw even when she was alive. Though this is hard to write and read, just thinking about the inexplicable torture that an innocent young woman went through sends shivers up the spine. Any head would hang in shame when considering her unheard cries and screams, as well as her horrific physical and mental pain. These fanatic Islamists are capable of going to any extent just to fulfill their religious duties, a feat that can make them cross human limits beyond comprehension.
There were no people from these leftist or liberal gangs or the so-called human rights activists who dared to speak out. Why would they? Her status as a Kashmiri Hindu lady meant that she had no right to live, since her religion is not part of the perennially marginalized group of India, thus making her an automatic pariah to the leftist cabal. Her gruesome case was ignored by hyperactive keyboard warriors and the mainstream media because it did not meet their standard of TRP attention. A few websites have featured her story, and Salman Khurshid surprisingly mentioned it in his book, 'Beyond Terrorism- A New Hope for Kashmir'. Girija and countless other Kashmiri Hindus still await justice!

There were many such horrifying events during the Genocide. Sadly, this was not the only gruesome event that transpired. Many Kashmiri Pandits who were brutally murdered and butchered by Islamic fundamentalists and terrorists were given leads by the local Muslim population. These people were once close friends with many of the Kashmiri Pandits. There is a need for Hindus to wake up to the danger that lurks around them and awaken their collective conscience. Muslims are working to achieve Ghazwa-E-Hind and are using various strategies to accomplish it, one of which is Love Jihad. Unless Hindus wake up now, more of these deplorable cases like Girija's will appear more often and that will be ignominious for the entire community of Hindus.