Time presents before you the biggest challenges of life and the one who has perseverance and valour can face those challenges, untiringly. One such name was Rani Durgavati, who faced the brutal Mughal forces of Akbar when there was no light of hope and etched her name in the golden pages of history.
Early Life
Durgavati was born on 5th October, 1524 in Kalinjar which is known as one of the most impregnable forts of India. It is situated in the Banda district of Uttar Pradesh. The Chandel ruler Raja Salbahan of Mahoba was her father. It is said that since she was born on the auspicious day of Durga –ashtmi, she was named Durgavati. At the age of 18, she got married to the Gond prince Dalpat Singh. Dalpat Singh was the son of the king of Garh-Katanga, Sangram Shah. Gond kingdom was a part of the modern day Mandala and Jabalpur districts of Madhya Pradesh. As a result of this union both the Chandel and Gond dynasty came closer.
In the year 1545, Rani Durgavati gave birth to a son, who was named Vir Narayan. However, after five years, she lost her husband Dalpat Shah. This was the testing time for the daring queen, since her child was very small, Durgavati decided to lead the kingdom on her own. Along with the trustworthy ministers, Adhar Kayastha and Man Thakur she administered the kingdom effectively.
She made a decision to move her capital to Chauragarh, situated at the hill ranges of Satpura, which were considered safer than Singauragarh.
Due to her able administration and quick decisions, the state started to flourish and prosperity also increased. Out of 23 thousand villages of her kingdom, 12 thousand were directly managed by her government. She also maintained a huge army of 20 thousand cavalrymen and 1000 war elephants along with that of several foot soldiers. Her works of public facilities included construction of a great reservoir in Jabalpur, which is called Ranital. And similarly, Cherital and Adhartal were built in the city by her minister Adhar Kayastha. She worked tirelessly to consolidate the boundaries of her kingdom.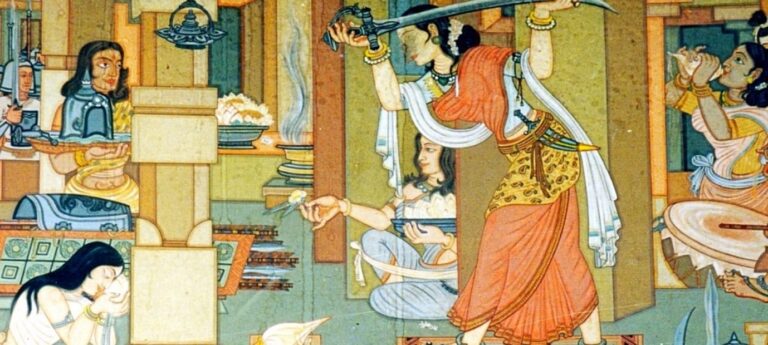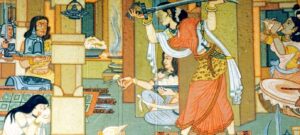 A Warrior Queen
Not less than a legend the great martial skills of Rani Durgavati are still heard and sung in the folk culture of Mahakoshal area of Madhya Pradesh.
According the Persian source, tarikh-i-Farishta, Durgavati repulsed the ruler of Malwa, Baz Bahadur who had attacked her kingdom between the years 1555 and 1560. But the times were changing and a bigger danger was approaching her land. In 1562 Mughal Emperor Akbar defeated Baz Bahadur of Malwa and annexed Malwa in the Mughal Empire.
Alongside, states of Rewa and Panna were also took over by the Mughal Generals. At this vantage point, Gond Kingdom became the target of Mughals. From three sides she was surrounded by Mughal territories.
Mughal Governor Kara-Manikpur, Asaf Khan made a cordial relationship with Gond Kingdom and opened trade relations between both the powers. This helped Mughal overreach the information related to Rani Durgavati's army and treasury. Slightly, Mughal soldiers started to raid the bordering villages and in the year 1564, there was an unprovoked attack by the Mughal army with an army of 10 thousand men, on the Gond Kingdom.
Rani was caught unawares but she was determined that she would not back down and fight vigorously against the Mughals.
The Final Battle
Rani Durgavati marched forward with only 500 men, collecting more men along the way. She reached to a strategic point, a village called Narhi which was surrounded by high hills and two important rivers, Narmada and Gaur. She entrenched her troops there and tried to create a hideout. However, it was not possible to hide for many days. She asked her soldiers, who were now 5 thousand in numbers, to fight for their honour and pride.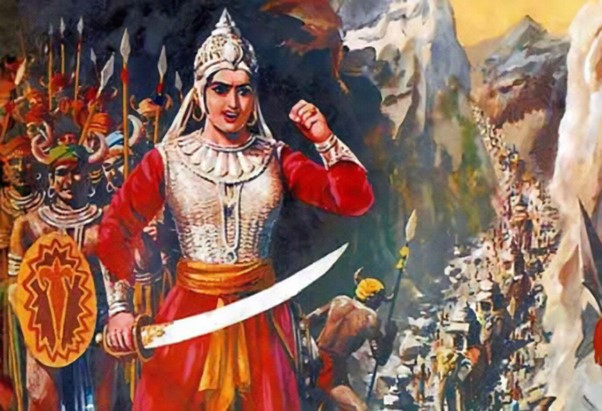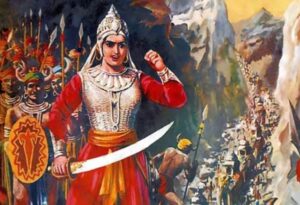 At the very same day, she was able to defeat the Mughal army, while killing 300 of their men and rest were chased away. To make sure her lead sustained over the Mughals, she planned a night attack; but her generals did not agree to this idea.
And her apprehensions were proven right when Asaf Khan barged in with his artillery the very next morning. Rani Durgavati got ready to fight the enemies along with her son. Till 3 pm in the afternoon her son Vir Narayan was badly wounded and had to be taken away from the battlefield. But, Rani continued to fight until she got struck by two arrows; one on her right temple and other on the neck. She was also removed from the battlefield. But the great queen knew that they won't be able to sustain this fight for long and sooner or later enemies would capture her. She was ready for the supreme sacrifice and took out her dagger and stabbed herself in the heart. On 24th June 1564, Rani Durgavati found the abode of Ishvara while keeping up her honour and pride. She was cremated in a narrow pass near Jabalpur.
However, Asaf Shah took 2 more months to consolidate his position in Garha kingdom. The Chauragarh fort was bravely defended by Vir Narayan, but he could not sustain longer and died fighting. And the women of the fort had no other option to adopt than Jauhar, as the final destination.
Such was the great queen who faced the mighty and brutal Akbar's army but never surrendered. This faith and foremost dedication to one's values and people makes a person an immortal leader. Her life is an epitome of greatness.
---
References