It is not uncommon for Islam to be associated with sexual perversion and its most distorted form, necrophilia. In its true nature, the objectification and selling of females began with the advent of Islam. What is the link between Saka Jauhar and Islamic sexual perversion? It is there which is ubiquitous and easy to grasp. Hindus need to understand this since recent cases of necrophilia in Pakistan reflect the same dirty mentality.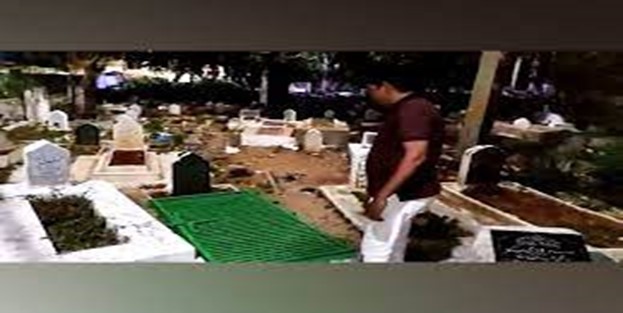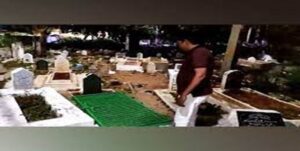 Recent Cases Of Necrophilia In Pakistan And Abroad
Recently, parents in Pakistan have been locking the graves of their dead daughters. There is a reason for this, since a grave caretaker used to rape dead girls. These aren't isolated incidents; they've been happening for decades. In October 2011, one man named Muhammad Riaz was caught for an act of defiling female corpses in Karachi.  He reportedly admitted to committing this act on 48 different women over a period of 8 years.  He stated that he was working in the graveyard to water graves and that the gravedigger who had taught him how to defile corpses died 2 years prior.  In 2021, the body of a 14-year-old girl was dragged out of her grave and raped. In the same year, 5 people were arrested and charged with necrophilia in another city.
It is a sickness that isn't limited to Pakistani territory but reflects a Shariah-based mentality. The way in which ISIS captured and treated women is universally accepted among Muslims. A Pakistani man was arrested in the UK last year for raping the dead bodies of buried females.
"A warped "monster" who broke into a funeral parlor before having sex with a woman's corpse has been jailed for six years. Kasim Khuram, 23, forced his way into Co-op undertakers before violating a dead body at around 1.40 am on November 11 last year.
A court heard how he lifted the lids of several coffins before selecting his victim. Khuram then removed the body from the coffin, took off her clothes, and then "interfered with her" in the chapel of rest, leaving her face down on the floor.
Another female body was found face down in a coffin with her lower clothing pulled down while seven other corpses, including a baby, were disturbed. Police were alerted by the alarm at the funeral parlor on Walsall Road, in Great Barr, Birmingham, and turned up to find the depraved pervert still at the scene. Officers said he was "more concerned" about leaving his watch behind. Khuram, who had been drinking vodka and smoking mamba, told officers: "I bet you think I've been sh***ing them don't you?" and sickeningly added: "Every hole is a goal."
The Religious Doctrine Of Islam
This behavior stems from their religious doctrines and beliefs. Additionally, the four orthodox Sunni schools of jurisprudence – al-Hanafi, al-Hanbali, al-Maliki, and al-Shafi'i – implicitly permit necrophilia. According to the Maliki compilation, adultery is described as follows:
If a husband enters his dead wife — any which way, from front or behind — there is no penalty for him. (Sharh Mukhtasar al-Khalil fi al-fiqh al-Maliki)
As per Imam Shafai's instructions mentioned in the compilation:
A dead body need not be washed after you have sexual intercourse with it. Rather, you just need to wash your penis. (Book of Purity – Chapter of Washing)
The reason for practicing Saka Jauhar is perhaps related to Islamic necrophilia. Yes, it is. The practice began when brutal Islamic tormentors, such as the Turks and the Mughals, invaded India. It was during the time of the leftist favorite of the Rajputs, Akbar, that the horrible reality became apparent when the Rajputs practiced Saka Jauhar. When Rana Udai Singh refused to give him the reins of Chittor, Akbar raided the city. On 25th February 1568, Akbar raided the city with his army of men and elephants.  It was then a time when women committed 'Jauhar', in which wooden pyres were lit and women and children less than 10 years of age were offered to the fire as a sacrifice. The reason for this painful choice of dying while still alive was due to the Islamic practice of Necrophilia. This is where the Mughal army sexually abused Hindu women's dead bodies. After Jauhar, all that the barbarians would get were ashes.
Conclusion
Sadly, our corrupt leftist cabal has portrayed the barbaric predator and tormentor as Akbar the Great today. There was nothing noble or great about the Mughal and Turk rulers. As far as liberal historians are concerned, the practice of Jauhar has been degraded without considering its genesis. It is a great and powerful lineage of Hindus who have fought the Mughals with courage and valiance. Unfortunately, due to the capture of the leftist cabal and the influence of vested Abrahamic forces, our history has been purposely distorted. It's time Hindus understood and appreciated their valiant past and not be influenced by those with corrupted ideals.
*This article draws inspiration from here- https://kreately.in/johar-prevented-necrophilia/