Hearing, reading, and hearing about cases of Love Jihad has become an unfortunate reality of our times. Hindu society cannot escape this reality, and rather should not attempt to escape it, but prepare to fight against it. Hindus still behave and act with the same Zimmi mentality, similar to the times of the Mughals. The fact that secularism, as a disease, continues to haunt Hindus despite gruesome love jihad cases is really sad. Hindu parents need to understand that the times we are living in do not grant us the privilege of living blindfolded in the love of brotherhood.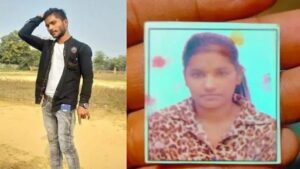 In an open and brazen manner, Muslims are engaging in various forms of Jihad. Despite this, Hindus are often found sleeping. How many deaths before Hindus wake up?
The Case Details
In Lucknow, a brutal Love Jihad case recently occurred, showing how cruel Islamists can be when pursuing their agenda. Nidhi Gupta was unwittingly made the victim of Md. Sufiyan's barbarism on 15th November 2022.
Md. Sufiyan who was known to Nidhi used to stalk and harass her on an everyday basis. Nidhi, a young and ambitious girl was training for a career as a beautician. According to reports, he harassed her while she walked from her house to the salon.
Irritated and disturbed by this, she complained to her parents about this, as well. She told her parents that Sufiyan wanted to convert her to Islam forcefully and marry her. A Zee news report said he threatened her to use a 'video' of Nidhi to blackmail her. He was rather obsessed with Nidhi and wanted a Nikah with her.
Sufiyan threw Nidhi Gupta from the terrace as a result she lost her life at Lucknow! pic.twitter.com/1aXtK4YPkI

— Anshul Pandey (@Anshulspiritual) November 16, 2022
In response to this behavior, which continued for too long, her family members confronted Sufiyan at his residence. Her mother, maternal uncle, and elder sister went to speak with Sufiyan on Tuesday night, but things got worse. This led Sufiyan to strike the girl's maternal uncle. In a fit of rage, he pushed Nidhi off the balcony on the fourth floor, causing her to suffer grievous brain injuries. Following severe shock and brain injuries, the girl died, and Sufiyan has been absconding ever since.
Conclusion
The case in question is one of many that are tragic, disheartening, and heartbreaking. Muslims always pursue a one-sided agenda, propagating Islam at any cost, and for that, they are willing to go to any lengths. In addition, parents must become aware of crime at the right time and take action. Furthermore, it's crucial for Hindu parents to impart knowledge, awareness, and wisdom to their children so that they can avoid such predators. Islamists have taken on new methods of fooling Kafirs, aka Hindus, and Hindus must be ready to deal with the modern enemy, especially Hindu girls.
---
References:
https://www.opindia.com/2022/11/lucknow-17-year-old-nidhi-pushed-to-death-mohd-sufiyan-family-says-he-was-forcing-her-to-get-converted-to-islam/