A hero from the interior of Jharkhand had challenged the British and their evangelical missions. A tale of a humble boy who rose to the status of 'Bhagwan' for the people.
Early Life
Birsa Munda was born to poor parents Sugna Munda and Karmi hatu. Born on 15th November, 1875. He was an inquisitive boy who roamed around jungle, grazing sheep and spending time in nature. However, due to poverty his family had to move from here to there to ascertain their meagre livelihood. He started to go to school at Salga. There he met one of the missionary workers. Over the time, due to his sharp intellect the school owner at Salga recommended him to join German Mission School in Burj, Chaibasa. The obligation while joining the school was to get converted to Christianity, christened him to Birsa David.
As a matter of habit, the teachers of the school were targeting the Mundas. Birsa was not able to tolerate the disparaging words. In return, he criticized the missionaries and their conduct, while leaving the school, showing his protest.
That came as a turning point in his life, which made him realise that missionaries, British officials and all whites have the same agenda to propagate Christianity. As he left school, along with his family Birsa left Chaibasa and the German Mission.
He started to read about the earlier tribal uprisings, how the Mundas revolted against the British. He started to think of a golden age where they had the right over their forests and were free to lead their traditions and rituals. He realised that how stealthily his culture was eroded and people were thrown into a foreign faith. Along with the brutal power of the colonialists, trading Christian ideals of love and peace was very easy. They were wolf disguised as a sheep.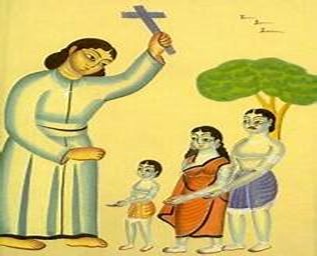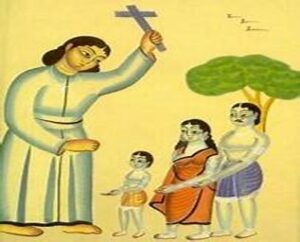 Life of Revolution and Dharma
Around 1890, Birsa Munda came in contact of Anand Pandey, who was the munshi of Bandgaon. Anand Pandey was well versed in knowledge of vaishnavism and the epic history of Hinduism. He also met a sadhu, who taught him about Sanatan dharma for two months. This made him live dharma in the spiritual sense.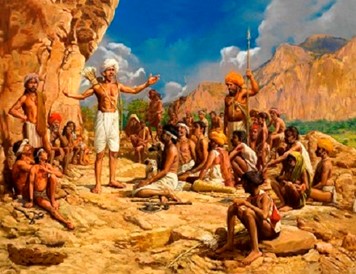 He found a new order as 'Birasait'. He involved people to revert back to their roots and worship nature. The treacherous moves of missionaries were contradicted by Birsa Munda as a messenger of god. He even involved the issues of political rights, the issue of undue taxes and encroachment of forests by the British authorities. Now, his ultimate objective was to drive out the Christian Missionaries, moneylenders and the British government officials away from their land. He wanted to set up the Munda Raj.
As his movement gained momentum, on some false accusations Birsa got arrested in 1895.
The Final Movement
After getting released in 1897, Birsa again started to strengthen his movement. He toured all across the villages to gain the support of people. He posed challenge against the Christian missionaries, by giving speeches and awakening the poor tribal against the misdeeds of the missionaries. But, English power never left him alone and he was always tailed. Eventually, he had to go into hiding for two years. In these two years it is said, he worked upon to strengthen himself spiritually and gained spiritual powers. And the news of his arrival as, Dharti Aba spread like a wildfire. He came as a new prophet to revive his people. He organized people to do a final attack. The Anglican Mission at Murhu and the Roman Catholic mission at Sarwada were the main targets. With the aim of 'Abua Disun'' (Self Rule) and Ulgulan (Total Revolt) Birsa Munda made a significant place in the history of Bharat. He is a role model and Bhagwan for us!
On the winters of January, 1900 the entire Munda community was up in arms against the Christian British Raj. Adopting the guerrilla war tactics he attacked the police stations and churches. The situation was dire for the British that for his arrest, a heavy amount of cash price was announced.
Enraged British authorities massacred hundreds of Munda revolutionaries gathered at Dumbari Hill. But Birsa somehow managed to survive and escaped. However, he was treacherously nabbed while asleep at Jamkopai forest in Bengal's Chakradharpur on 3rd March, 1900.Eventually, he mysteriously died in jail on the 9th June, 1900.
It was not just an ordinary event. It was an armed war to challenge those who meddled with your civilization and soul. The business of soul harvesting by the British Raj got openly challenged by Birsa Munda. He made the ordinary people understand the meaning of their own roots and culture. Until now, no such strong resistance could be noticed in Indian history against the Christian missionaries.
---
References