A deplorable case from Jharkhand will make the Hindus rethink about their situation in the society. The mental, emotional and physical harassment done in the name of Islam is crossing all limits in the recent times. While on one hand Hindus are repeatedly told to be secular and adaptive, Muslims are unabashedly working on their agendas, and there is nobody stopping them. Deepak Singh was one such victim of Islamic harassment.
What is the issue?
Deepak Singh who was a MBA student from Umedanda village of Jharkhand committed suicide. He was constantly being forced to convert to Islam. Deepak was in love with a Muslim girl from Dakra, Jharkhand later she shifted to Bangalore. This made a distance between her and Deepak and the girl started to ignore him. Naseem, who was Deepak's friend, took Deepak to a Malauna. Then the real game began. And the two started to torture Deepak to accept Islam so that the girl can come back to his life.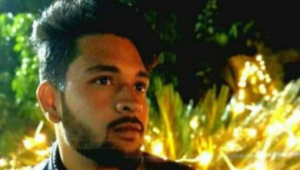 Deepak was residing in a rented apartment in the Pahadi Mandir, Chuna Bhatta area.
When Deepak's aunt saw a message on whatsapp on Tuesday, which said, "Alvida Dosto, Maulana aur Naseem ko yaad rakhna," she called his sister.
When they opened the door, Deepak was found hanging. Deepak was immediately taken to RIMS but he was declared dead by the doctors.
Conclusion
Police has filed the FIR against Naseem and Maulana. Deepak's father has demanded a strict action against the two since they are the prime reason of his son's death. Deepak's father Anil Singh is definite that due to this trap of conversion his son has taken his own life.
Such incidents are the testimony to a declining vigilance, awareness and increasing Dhimmi attitude of Hindus in the name of secularism. It is high time that young generation must be equipped with all the physical and mental strength to fight the evil of Islam and other such menace. Empowering them with Sanatana Dharma is the way to save our society.
---
References