Islamic conversion racket 's are leaving no stone unturned to create ruckus around the country. Firstly, liberal gang raised the issue of Muslims being allowed to do business around Hindu temples and teerthas, and now one can see the consequence that they are beginning to pollute our sacred places with their agendas.
Now, the Islamic gangs have dared to intrude into the sacred Magh Mela and began influencing people with the sacrilegious books and brainwashing poor Hindus to get converted to Islam.
What is the issue?
The authorities in Prayagraj, Uttar Pradesh, have apprehended three Islamists, one of whom was a madrasa teacher, who were operating a religious conversion racket at the annual Magh Mela, which is currently taking place. Arrested people include Mehmood Hasan Gazi, Mohammed Monish a.k.a Ashish Kumar Gupta and Sameer a.k.a Naresh Kumar Saroj.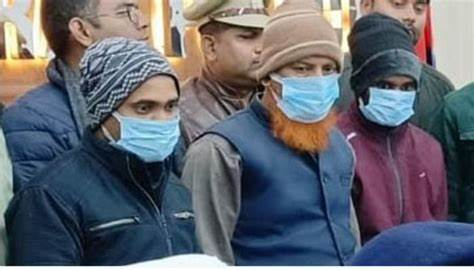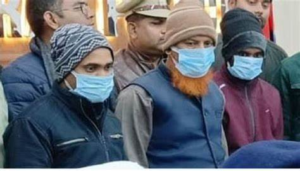 The arrest was possible after a BJP MP tweeted about this crime going on in the sacred Mela. The gang was arrested by a joint effort of Daraganj police station and SOG team. Deputy Commissioner of Prayagraj told, while addressing the press conference,
"They were distributing religious books on a stall. Some of the books were related to the religion Islam. Some other books were about Hindu Dharma in which there are articles quoting and misinterpreting verses from Hindu Dharmic scriptures. This can hurt the religious sentiments of the people from the Hindu community. Such books were being distributed by them on that stall."
दैनिक समाचार पत्रों में #पुलिस_कमिश्नरेट_प्रयागराज से सम्बन्धित प्रकाशित खबरें।
#PoliceCommissioneratePrayagrajInNews#UPPInNews pic.twitter.com/afRqmxJbIR

— POLICE COMMISSIONERATE PRAYAGRAJ (@prayagraj_pol) January 18, 2023
DCP informed that this is not a new agenda rather, this gang had put a stall near Hanuman Temple in Prayagraj. They had also done the same thing in Banaras at the Assi ghat of Kashi Vishwanath Temple.
Foreign funding and Dubai connection
This is not just a matter of India, rather this conversion racket was fully funded from outside and these people always reported back to their leaders. The master mind, Mehmood Hasan Ghazi, who is also a madarsa teacher, admitted during the interrogation that he was the president of Bazm-e-Paigam-e-Behdaniyat and was a teacher at Madrasa Islamia Himdadia in Mariadih village of Puramufti in Kaushambi district.
Alongside, he revealed that they used to get funding from Abu Dhabi and UAE for his work. While they used to report back to their 'sarganas' by sending photographs of their work, they would receive funds in an instalment of 10 thousand each.
It is possible that these books were printed in the Abul Fazal enclave area of Delhi, where the Islamist outfits Jamaat-e- Islami Hind's headquarter is located.
Conclusion
There are left-liberal voices springing up every now and then that Muslims are under attack, but the ground reality is altogether opposite. Islamists are fully equipped to take up their agenda of Ghazwa-e-Hind and they are not at all fearful to target Hindus, whether using terror or soft power like books.
This contamination of our Hindu teerthas has to be stopped at once, and the government should scrutinize each and every person engaging in any kind of business or service in and around our Dharmic places.
---
References