Mr. S. Jaishankar has been dominating the global news in recent days, and deservedly so. S. Jaishankar's non-diplomatic, straightforward attitude has shown the world that India has arrived. An ex-diplomat, Mr. Jaishankar knows all about global diplomacy and the shoddy games played by the west to undermine India. Historically, western nations have always been in cahoots with one another, because they feared that if India rose, it would threaten their influence. Indian resources have long fuelled the growth of the west, which has been feeding off our rich resources for centuries. West's sermons to India were characterized by constant lecturing and preaching. With its resolve, India has become the 5th largest economy in the world.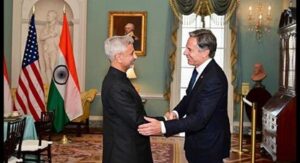 Calling Out Western World's Hypocrisy
Our EAM S. Jaishankar has highlighted the west's unabated hypocrisy repeatedly on global platforms with all this going on. S. Jaishankar challenged western countries on their turf, leaving them dumbfounded. Having colonial thinking still ingrained in the minds of Western nations leaves them confused when hearing rightful responses.
In a recent article, Mr. S. Jaishankar called out USA's hypocrisy when it offered Pakistan F-16 fighter jets. Providing fighter jets to fight terrorism is nothing more than a farce, he said.
Pleasure to meet @SecDef once again.

Defence and Security cooperation is a key pillar of the contemporary India-US partnership. We noted the steady progress in policy exchange, interoperability, defense trade, service exercises and military-industrial cooperation. pic.twitter.com/9AkvTkALGk

— Dr. S. Jaishankar (@DrSJaishankar) September 26, 2022
Even taking a direct stance against China's excessive domineering attitude against many nations was something he spoke out against. He stated, "We continue to strive for a relationship with China, but one that is built on mutual sensitivity, mutual respect, and mutual interest,". He further added on India and the USA coming together on China, "Where Indian and US interests converge, and they do, I think, is on the stability and the security, the progress, the prosperity, the development of the Indo-Pacific. Because you have seen, even in the case of Ukraine, a war fought a great distance away, has the potential, has the capability of actually creating turbulence across the world in terms of implications for the daily lives of people,".
"India-US is one part of it, we have a bigger gathering, and coordination in terms of the quad, but there are still bigger ones. If you look at two new initiatives, the Indo-Pacific Economic Framework and the Indo-Pacific initiative for maritime domain awareness, they extend beyond them. They are open and they have multiple players out there".
Conclusion
A backlog in visa issuance by the American embassy as well as the rising oil prices was also addressed by Jaishankar. S. Jaishankar further strengthened Indo-American bilateral ties by engaging the Indian business community. Overall, the visit was not only fruitful and productive but also aimed at propelling India forward. With his directness and calm demeanor, Mr. Jaishankar has proved that India today is not the same as it was ten years ago. It is true that Mr. Jaishankar is one of the finest EAM India has had in the last few decades, one who possesses the strength of conviction. As an indispensable asset, his induction into the cabinet has proven his ability to clearly define India's future goals. The visit was nothing short of historic, as the USA has offered to support UNSC reforms. It takes astute knowledge and wisdom in international diplomacy to deal with manipulative western sharks. Mr. Jaishankar has proven to be the most effective choice for a wake-up call for self-entitled and hypocritical western nations.
---
References:
https://zeenews.india.com/india/india-continues-to-strive-for-a-relationship-with-china-but-s-jaishankar-2515682.html