Raghuram Rajan is known for presenting awry interpretations of economic facts in the context of Bharat. Recently, he was also seen with Rahul Gandhi in his Bharat Jodo Yatra.
The former Governor of the Reserve Bank of India, Raghuram Rajan, has expressed concern that India's economic growth rate is slowing down.  And, could fall to levels seen in the past, which were referred to as the "Hindu rate of growth". Rajan specifically warns that without action, India risks falling behind other developing countries and failing to achieve its potential as a major economic power.
What is Hindu growth rate?
The term "Hindu rate of growth" refers to the slow pace of economic growth in India during the period from the 1950s to the 1980s. During this time, India's GDP growth rate averaged around 3.5% per year, which was considered low by global standards. The term was coined by economist Raj Krishna, who argued that this slow pace of growth was due to the country's socialist economic policies and lack of emphasis on private sector development.
Raghuram Rajan & @Reuters two Clowns who comment on Everything they DON'T Understand!@Reuters PREDICTED Bharat's Service Sector PMI to FALL to 56.2 in Feb 23 from 57.2 in Jan 23.

INSTEAD Service Sector PMI INCREASED to 59.4 at FASTEST PACE in 12 yrs.

For RRR's intelligence👇 pic.twitter.com/I6m5Fkuqth

— BhikuMhatre (@MumbaichaDon) March 3, 2023
However, Raghuram Rajan's coming over with this terminology at this point of time seems fishy. Targeting the rise of Hindutva, he is sheepishly trying to slow growth rate with rise of Hindutva.
What Raghuram said?
Raghuram Rajan, the former Governor of the Reserve Bank of India, has expressed concern that India is dangerously close to the "Hindu rate of growth" once again.
In a recent interview, he stated that India needs to take urgent steps to address the underlying causes of this slowdown.
In recent years, India's GDP growth rate has fallen from over 8% in 2015 to around 4% in 2019, well below the country's potential. This has been due to a combination of factors, including a slowdown in global trade, a decline in private investment, and weaknesses in the banking sector.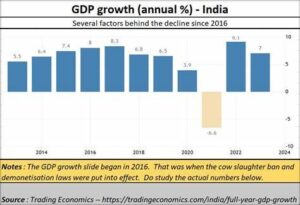 According to Rajan, India needs to do more to encourage startups and small businesses to thrive. This includes providing better access to financing, simplifying regulations, and creating a more supportive business environment. The government has launched several initiatives in this regard, including the Startup India program, which aims to promote entrepreneurship and innovation.
Delusional and Spoilt- genius of Raghuram Rajan
Raghuram Rajan seems least concerned with India. However, he is completely obsessed with finding flaws in Indian systems and suggest unrequited advices. But, Rajan's suggestions are neither unique nor deniable. What he is trying to convey is already being done by the government. From Start-up India initiative to rigorous infrastructural works going on in the country are the testimony to it. Altogether, good infrastructure is creating a hike in rural as well as urban demand.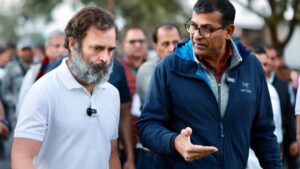 Former RBI Governor forgot that India has uplifted significant number of population from poverty. All the way to this, these people are now given better opportunities of education and health. Under PM Aawas Yojna, urban and rural poor are granted affordable houses. Moreover, large part of the country is now under the facility of potable tap water. Ignoring all these fundamental changes, Raghuram Rajan is doing an injustice to his Western education. Maybe, he needs to leave the company of Shri Rahul Gandhi for the good now.
---
References-