Incessant hardwork done by the left-liberal cabal to disprove the true history of Bharat is commendable. Even after being proved wrong multiple times by the Indic wing and Sanatanis, there is no end to the propaganda by Romila Thapar.
The Qutub Minar attributed to be built by a slave dynast Qutb-uddin Aybak, is originally a Vishnu Stambh, built inside a Hindu Temple Complex. But the propagandists never stop claiming the false narratives as true history.
Romila Thapar's Fake History
"रस्सी जल गई पर बल नहीं गया"
Veterans of all leftist intellectuals Romila Thapar again raised the issue of Qutub Minar at the recent IIC, Delhi lecture.
At the said lecture, Romila Thapar commented on the various inscriptions found in the Qutub complex, that the inscriptions prove that those people were neither forced labourers nor converts. She is pointing towards the architects Chahada Devapala and mason Lakshman, Nana, Solha whose names are mentioned and they used to invoke lord Viswakarma. So, according to Romila Thapar this justifies that Qutub Minar was built by Hindu artisans but was commissioned by an Islamic ruler.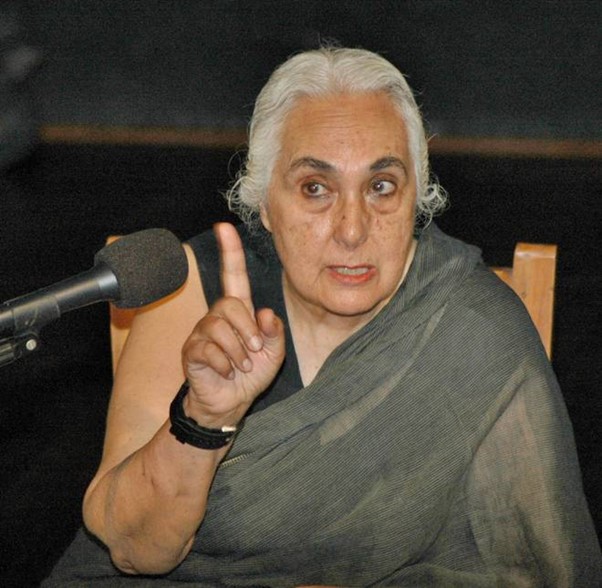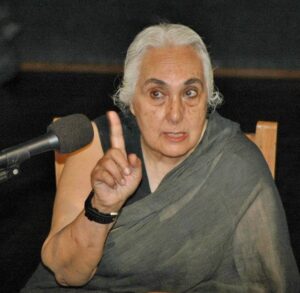 Ample amount of destruction has been done by the Nehru-centric secular history retelling in India. Morale of the country has been smashed several times and in the name of 'professionalism', the kind of pseudo-historians sprang up through Hinduphobic academia has now been brought to the forefront.
VHP's Stand on Qutub Minar
Vinod Bansal, a national spokesperson for the VHP, asserted that the 73-meter-tall tower was constructed on top of a temple dedicated to Lord Vishnu that was erected during the reign of a Hindu prince. "When the Muslim ruler came, some of its portions were reconstructed with the materials obtained after demolishing 27 Hindu-Jain temples, and renamed as Quwwat-ul-Islam (Might of Islam),"
According to the Delhi Tourism website,
"An inscription over its (Quwwat-ul-Islam Mosque) eastern gate provocatively informs that it was built with material obtained from demolishing '27 Hindu temples'."
Focusing on the various Hindu architectural elements found in and around Qutub Minar, BJP leader Tarun Vijay demanded the Archaeological Survey of India that, "The idols are currently placed at the most disrespectful place, upside down at the feet level of visitors. The idols should either be removed or placed respectfully inside the Qutub complex,"
Qutub Minar's Real Story
There are various facts surrounding Qutub Minar which are never answered by these 'professional Historians' and they go silent over the real aspects of History.
Quwwat-ul-Islam Mosque was first coined by Sir Sayed Ahmed Khan in his book Asar-e- Sanadeed
There are many motifs of Hindu architecture in the Qutub Complex
A Shri Ganesh idol is there which was earlier caged in iron-pillar
The famous Iron pillar of Meharauli which is Garud-Dhwaj, and a Garud dwaj will stand before a Vishnu- Stambh, definitely.
In research monograph by M.S. Bhatnagar, dated 10th, 1977 a detailed description of what actually is Qutub Minar and how it got converted to an Islamic complex.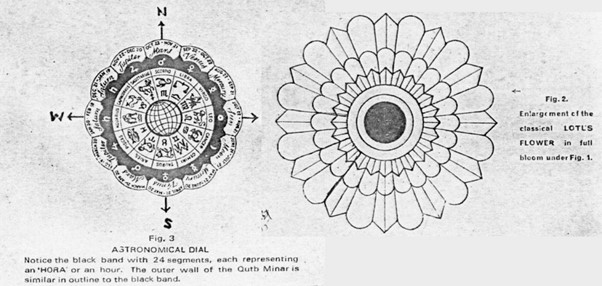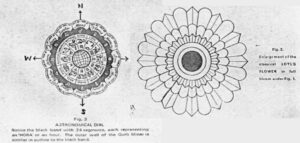 This was actually a central observation tower of an ancient Hindu Astronomical Observatory. The tower looks like a 24-petalled lotus flower each representing a Hora (hour). This lotus structure is an integral part of Hindu architecture. Around the tower you would fine 27 pillars which represent 27 constellations (Nakshatras).
Mehrauli Iron Pillar Inscription
The Iron Pillar present in front of Qutub Minar specifically invokes Shri Vishnu and the greatness of Vishnu devotee Chandragupta.
The inscription portrays the monarch as a Vishnu devotee and chronicles the construction of a Vishnu dhvaja (standard or pillar) atop a hill known as Viupada (hill of Viu's footprint).
Chandragupta II is often referred to as a Bhagavata in other Gupta inscriptions (devotee of Vishnu). The Gupta Era is also represented by the names of the places listed in the inscription. Dakia Jalanidhi (the Indian Ocean) and Vaga are two examples (the Bengal region).
On Chandragupta II's archer-type gold coins, the abbreviated name 'Chandra' is engraved, but his complete name and honors appear in a distinct, circular legend
The phrase r Viupada-svm Nryaa (Nryaa, the lord of the famous Viupada) appears on Chandragupta's wife Dhruvadevi's royal seal.[1]

https://www.tutorialspoint.com/the-iron-pillar
All these important facts directly establish Qutub Minar was never an Islamic building rather a Hindu astronomical observatory and a magnificent work of Hindu brilliance.
---
References-