Shahrukh Saifi has been arrested for setting fire to passengers on a train in Kerala.  Nine people suffered burn injuries. The incident happended during the Ram Navami processions of Hindus were attacked by Jihadi mobs.
Saifi was caught in Ratnagiri, Maharashtra.  On April 6 he was brought to Kerala by road the next day.
Shaheeb Bagh and Burning Train
According to reports, Saifi's neighbours and family describe him as a "loner" and "introvert". This again comes as a cover fire given to the jihadis. Nothing new in such claims where even the terrorists were saved by claiming higly qualified, or 'mad' and 'crazy'. The people around Saifi are now claiming him to be an introvert.
His family was unaware of his involvement with any of the groups. Saifi lives in Shaheen Bagh in southeast Delhi with his two younger brothers, parents, and grandmother.
मोहम्मद शाहरुख सैफी ने चलती ट्रेन में दो बोतल पेट्रोल डाल कर अलप्पुजा-कन्नौर एक्सप्रेस की एक बॉगी में आग लगा दी और चेन खींच कर उतर गया। घटना केरल के कोझीकोड में हुई। तीन लोग मर गए।

जिहाद का महीना रमजान चल रहा है। रामनवमी में दर्जनों जगहों पर दंगों के बाद नया गोधरा बनाने का… pic.twitter.com/vcpThwQlcU

— Ajeet Bharti (@ajeetbharti) April 4, 2023
His father Fakhruddin said they have been living there for the past 15 years. Saifi helped his father at their carpentry shop in Nithari village in Noida Sector 31. He has completed studies till class 12th. He also runs a YouTube channel and started spending more time in namaz and quit smoking in June last year.
Burning Hindus In Train
On the night of April 2, Saifi a poured petrol on passengers on a train and set them on fire when it reached Korapuzha bridge near Elathur. He then fled the scene. The Kerala Police constituted a Special Investigation Team (SIT) to identify and apprehend the perpetrator. Saifi's family filed a missing person complaint with the police after he went missing on March 31. Maharashtra ATS deputy inspector general (DIG) Mahesh Patil told TOI that Saifi has confessed to the crime.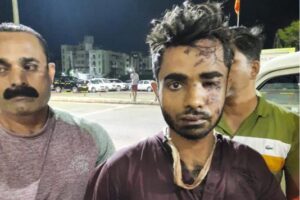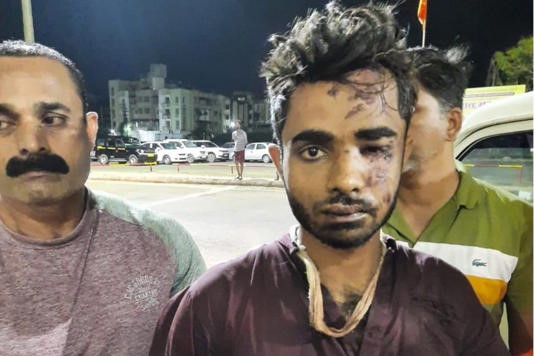 Saifi's Arrest
Saifi was nabbed from Ratnagiri railway station in Maharashtra in a joint operation. The teams involved in operation were Maharashtra ATS, Kerala SIT, and central agencies. He also visited the Ratnagiri civil hospital for treatment of head injuries. He was injured after falling off the train he had targeted in Kerala.
Islamic crimes are on the rise and people are targeted without any cause. The crimes which have no reason but they are just made to cause fear among the people. Since when the crimes against Hindus are reported extensively, jihadis do not seem to fear. Rather, their tactics are taking new turns.
Conclusion
According to Saifi's father, he was not associated with any group or party and did not have a criminal record. However, Saifi's alleged actions on April 2 have caused harm to many innocent people. But, the investigation will continue to uncover the full details of the crime.
In the train burning context, Shahrukh Saifi was prepared to cause this accident. Therefore, this does not seem a crime done by a 'crazy boy' from Shaheen Bagh. Rather a completely trained and in continuation of jihadi crime.
---
References