From Canada to Austraila to Bharat, Khalistan is ganging up to wage a separatist war against the punyabhoomi of Bharat. Hindu temples are under attack, globally. On Monday, Gauri Shankar Mandir in Toronto has been vandalized with anti-Hindu and pro-Khalistan slogans. In Australia too, Indians were attacked and tricolour was broken. These are the examples of a rising cancerous Khalistan.
Over the course of the past two weeks, there have been reports of horrifying attacks on Hindu temples in Australia. There was vandalism committed against multiple temples in the city of Melbourne, including the Sri Radha Ballabh ISCKON Temple of Melbourne, the Shri Shiva Vishnu Temple, and another temple. And these were the attacks that were planned by Khalistani groups. These groups were attempting to denigrate Hindu Dharma, and they used pro-Khalistani and Bhindrawale graffiti on the walls. This is not something that came out of nowhere; rather, it is part of a continuous spread of Khalistani propaganda that is occurring from Canada to Australia, and without a doubt, Bharat is the epicentre of it all.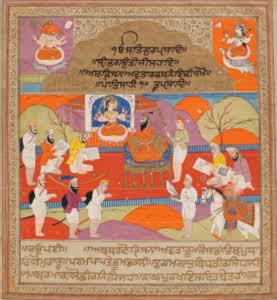 What is SGPC and

it's

Agenda

?
Shiromani Gurudwara Parbandhak Committee is a dedicated organisation for the management of Gurudwaras, Sikh places in the state of Punjab.  SGPC is also responsible for the administration of Shri Harmandir Sahib that is the Golden temple of Amritsar. SGPC's working movement began in the year 1920. SGPC declares itself as one of the foremost leading organisation to uphold Sikhism.
Did Sikh Gurus celebrate Diwali? | दीपावली और खालिस्तानी Propaganda | Puneet Sahani and Sanjay Dixit – YouTube
Recently, the Sikh Gurdwara Parbandhak Committee (SGPC) and those who support it have been spreading the idea that Bandi Chhor Diwas, and not Deepawali, is the holiday that Sikhs celebrate. They never stop insisting that Diwali is celebrated in a different manner by Sikhs than it is by Hindus. Before the year 1619, the Sikh Gurus did not observe the festival of Deepawali in any way. Is that really the case?
Two years ago, we witnessed how a Kisan Andolan event that was well planned and funded by outside sources erupted in violence on the Red Fort and where the protestors even assaulted the police officers. The advanced stage of this violence is the killing of innocent people in the name of religious blasphemy by Nihangs. In this stage, Sikhs are denigrated and a situation of hatred is created to create a rift between Hindus and Sikhs.
Even though the SGPC has not taken any action to condemn this trend, Bhindranwale is still being revered as a saint, and posters of him are being openly displayed in Gurudwaras across the country.
AkalTakht till a couple of generations ago testified to our pluralistic past with images of Rama, Krishna, Kabir, Dhruva, Prahlad.
May nothing remain of Akali/Bhindranwale/SGPC men who exploited our sacred spaces as arena for partisan wrestling & destroyed our spiritual heritage. pic.twitter.com/J55EsYjbNs

— Puneet Sahani (@puneet_sahani) November 17, 2022
Propaganda of

F

ive

Kakars
As far as we know, Sikhism began with the compulsion of the panch-kakars, namely kesh, kangha, kada, kacchehra, and katar. But is this true in practise? Independent researcher Puneet Sahani has provided irrefutable and academic evidence that panch-kakars were never a part of Sikhism as claimed by the recent history propagated by and approved by SGPC.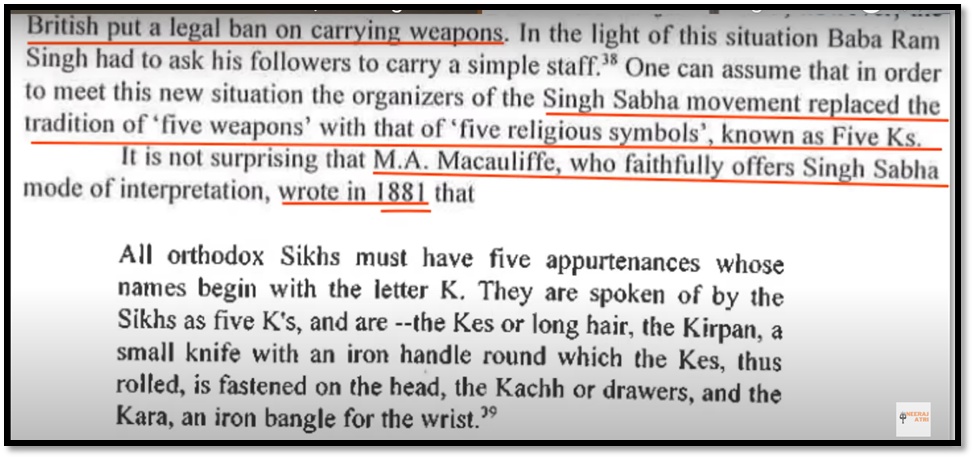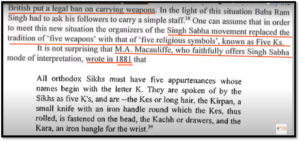 M.A Macaullife, the leader of this separatist movement in Bharat, whose sole mission was to divide Sikhs from Sanatan Dharma and prove that they are completely monotheistic, with no ties to the pagan and backward Hinduism. And the movement has left a trail of MacSikhs who have no knowledge of the tradition and claim complete separation from Hindus. While they forget that every Hindu family in the Panch-nad region gave their first son in Guru's service and has continued to do so to this day.
The goal of the Khalsa was to bring together a dedicated army of warriors to confront Islamic brutality and save the Dharma.
All the lies aired about Sikhism and its ideals as a separate strand from Sanatan, was done under the privilege of SGPC, historian Kant Singh Nabha and majorly British manipulators like Macauliffe.
Punjab under Christian Mafia, where is SGPC?
At this point the number of Christians in the state of Punjab has rapidly increased in the recent years. The Christian community in Punjab is primarily made up of converts, as it is a relatively new phenomenon (less than 200 years old). The majority of early converts were from the Hindu community, but now the majority of converts are Sikhs. A new wave of mass conversion to Christianity is underway in Punjab, where thousands are said to have accepted the faith. How can SGPC see the missionaries' growth in the land of Gurus in the name of false miracles and disease treatment? Where is their power to challenge the pastors who are engulfing Punjab under superstitions and denigrating the Guru Granth Sahib.
What kind of similarity does the SGPC find in the Bible and the larger-than-life Gurus when they are so vigilant in separating Sanatan Dharma from Sikhism?
Watch to make sense of SGPC's incessant nonsense.
It's British creation with separate nationhood as raison d'etre. So any benevolence by ??/Hindu only brings more rebuke.
They were biggest traitors & cowards.
Have even tattered #GuruGobindSingh's bani for politics!#VeerBaalDiwas https://t.co/5dGYgaDOGj pic.twitter.com/HnHm8nrp9s

— Puneet Sahani (@puneet_sahani) December 26, 2022
Conclusion
The recent rise in Khalistani movement and sledging of the Hindu –Sikh union is an infiltration in the long history of Sanatan. Guru Gobind Singh had written the great divine work Chandi Charit Ukti Bilas which is a praise and devotional work dedicated to Maa Durga. Sikhi and Sanatan Dharma are mutual and the division thereof is artificial and an apt work of Breaking India forces.
Decimating this trend by uniting Sikhs with the Hindus can lead to a mature war against all the forces working to propagate their agendas. Lives of the ten Gurus is a testimony to their dedicated life towards Sanatan Dharma.
Who is Destroying Hindu – Sikh Relations | Puneet Sahani and Sanjay Dixit – YouTube
Bhindranwale – A Saint or Something Else? | Operation Bluestar | Puneet Sahani and Sanjay Dixit – YouTube