The era before the 1960s saw Sage Thiruvalluvar with rosary beads and tilak on his forehead. However, following the dark period of 1960s, all of this changed and anglicisation of the Sage by Evangelists came into play.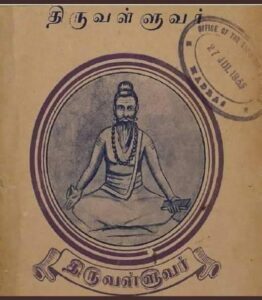 Evangelists Seep Into Tamil Nadu
The evangelists realised they needed to master Tamil Nadu's language after they were there in order to effectively evangelise the locals. They immediately discovered that the local population was deeply anchored in a long-standing civilization and had strong cultural and religious traditions; as a result, they concentrated on Tamil literature to comprehend the legacy and religious customs in order to develop various conversion tactics. It must be made very obvious that these priests did not study Tamil with the objective of advancing the language; rather, they did it with a specific purpose in mind.
The Church institutions that sent these missionaries on their "holy" missions. The masters only realised how much manpower, financial power, and political power was required to demolish the 5000-year-old civilization and convert an India with a solid spiritual foundation at that point.

For this reason, priests studied Tamil, translated important works of literature, and produced comparable Christian writings.
The Christian monks who arrived in Tamil Nadu from other countries laid the groundwork for Dravidianisation, knowing that Indians could not be conquered as long as Hindu Dharma prevailed. The Dutch established their trade centres in Pulicat (Pazhaverkadu) in 1609, Sadras (Sadurangapattinam) in 1647, Nagapattinam in 1660; the British set up shops in Masulipatnam in 1622, Madras in 1639, Cuddalore in 1683 and also in Calcutta; the French got Pondicherry in 1674 and the Danish settled in Tranquebar (Tharangambadi) in 1620.
Inculturation was used by Christian missionaries to destroy local culture as part of their aim of gaining political control and converting the populace.
The Anti Hindu Route
Bishop G.U. Pope began to extol the Tamil classics era, arguing that its foundations were Christian, not Hindu. Though later refuted by competent Tamil cultural academics, the belief that Hinduism had damaged the "initially pure" Tamil culture by introducing Sanskrit and pagan ideas was effectively seeded.
Meanwhile, a growing number of Tamil politicians have begun to embrace their Dravidian heritage. This gave rise to Tamil chauvinism, which was first secular and non-religious. It was fueled by the belief that in the Indian Ocean previously existed a lost continent named Lemuria, the original homeland of the Dravidians (akin to the Atlantis myth). Under British administration, accounts extolling Lemuria were taught as historical truth, which worsened regional fault lines.
G.U. Pope translated the majority of Thiruvaachakam while living in the Italian town of Lugano, where he used to visit the St. Maria Angioli Church on a regular basis to get the essential distraction, relaxation, and rejuvenation by viewing the paintings of Bernardinao Luini. He also stated that he felt the presence of Sage Maanickavaachakar near him while bowing and praying to Jesus. Pope claims that the Sage must have been a disciple of Jesus until the moment of his (Jesus') ascension to Heaven, which is the only explanation for the sense of profound devotion evident in his work. He also says that, he believed Maanickavaachakar, Mylapore's Handloom worker (Thiruvalluvar) who wrote Thirukkural and the Nomad Gnanis (Jain Sages) who wrote Naaladiyar and others who have freed themselves from the flesh must have certainly visited this Church and realised themselves through the history of Jesus and Christian thoughts.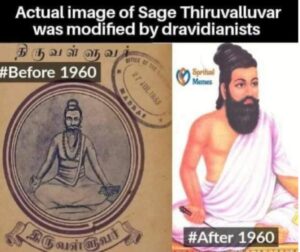 The Dravidian identity is becoming more Christianized. A new religion known as "Dravidian Christianity" was created as a result of a sudden surge of publications aimed at "discovering" the existence of quasi-Christianity in Tamil history prior to the arrival of the "Aryan" Brahmins. The project's goal is to methodically purify Tamil culture, language, and literature of Hinduism. Christian interpretations and substitutions are being infused into Tamil Hindu culture's most revered symbols, objects, and literary masterpieces.
The absurd notion is that Tamil classical literature evolved from early Christianity. The Tamil classical tradition is made up of two major components: an ethical treatise called Tirukkural (abbreviated Kural, written by the great sage Thiruvalluvar) and a sophisticated Vedanta philosophical system called Saiva Siddhanta, which has its roots in the Vedas and has been nurtured over the centuries by many Tamil savants. Both of these seminal writings are appropriated by Dravidian Christianity and attributed to Christian influence. Kural's pre-Christian date has been substituted with more current dates to make this more convincing.
The story goes that St. Thomas, the apostle, went south India and taught Christianity to Tiruvalluvar, a renowned sage who was inspired by Christianity but could not fully absorb St. Thomas' message. This is frequently depicted in recently published paintings of the sage sitting at St. Thomas' feet, taking notes. As a language developed by St. Thomas to deliver the Christian message to the uncivilised north Indian people, Sanskrit is degraded.
Conclusion
Western churches donate billions of cash to Tamil Nadu, the hub of the harvesting of Indian souls operation. While the scope of academic dishonesty and prejudice is staggering, the church's political influence has allowed it to infiltrate university research, education, museums, politics, and movies. The state government is even funding the creation of an epic feature film about St. Thomas in order to publicise this story.
Over the last decade, the Dravidian Christianity movement has arranged a whole series of international conferences at which its researchers have made outrageous changes to Indian religious history. They assert that the Bhagavad Gita, Tamil classics, and even Sanskrit were written after Christ and under the influence of Christianity.
It seems to be an opportune time to realise the motives of the Evangelists and retaliate to them to save the Hindu fabric of Tamil Nadu.
—————————————————————
References:
How Christian missionaries invented "Dravidian Christianity" – Rajiv Malhotra