In a recent incident,  finally Hindus have showed resistance to Muslim dominance. At Panchlingeshwara temple fair at Vittal town in the Dakshin Kannada district of Karnataka, Muslim shopkeepers were shown the way out of the complex.
What is the issue?
Karnataka is soaring with Hindu confidence where Hindus have themselves taken the call to not bear the Islamic jihad in any form, any more. In this connection, at many places Hindu organisations called for the boycott of Muslim led businesses.
Shops of Muslim vendors evicted at Dakshini-Kannada temple fair.

VHP gives a call to ban non-Hindu traders.

Imran (@KeypadGuerilla) & @roypranesh share the latest updates. pic.twitter.com/ghQasd1tvZ

— TIMES NOW (@TimesNow) January 21, 2023
Few days ago, in the going on Panchlingeshwara Temple Fair in Dakshin Kannada district, Hindus got the Muslim shopowners evicted from the temple complex. For the mainstream liberal- Marxist media this can be an issue of Hindu intolerance. But this is an effort by Hindus to keep their Temples pure and sacred without any intrusion.
Can Boycott be a Way?
Time and again we see that Islamic jihadis target Hindus. And the sanctity of our temples has been mutilated on several instances and there has been no outrage in national media. Temples are the gracious home of our deities and it the responsibility of Hindus to maintain that.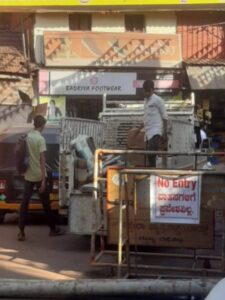 In March 2022 also, VHP leaders put up posters outside the temples to stop Muslim shopkeepers from entering temple fairs.
Earlier reports also stated that the organisation associated with the Mahalingeshwara Temple in Puttur had prohibited Muslims from taking part in the auction. According to the local reports, the Hosa Marigudi temple in Udupi did not grant permission to Muslims to set up kiosks there.
Conclusion
Muslims are already running parallel Halal economy all over the world and still they want to snatch away the share of Hindus in their own premises. It is important that small businesses run by Hindus are promoted. Hindus should again start to manage their affairs on their own and hence the Free Temple Movement can be taken forward.
---
References-