In a viral video clip, a Pakistani Maulana named Dr. Muhammad Suleman can be heard calling Sikhs "the filthiest" and stating that he would secretly convert them to Islam. The video has sparked outrage among the Sikh community.
What are the comments?
In the video, which is undated and appears to have been filmed at a private gathering, Sufi Maulana Suleman can be heard making derogatory remarks about Sikhs. He also claims that he has already converted many Sikhs to Islam secretly and that he will continue to do so. Maulana Suleman also made derogatory remarks about Guru Nanak Dev ji.
He commented that Prophet Mohammad was far greater than any of the Sikh gurus. Provocatively he added that Sikhs are foolishly running after their gurus and doing dirty things.
Islamist remarked that Baba Farid was not able to bring Guru Nanak ji to Islamic fold. This is something unacceptable for any Sikh who is Sanatani.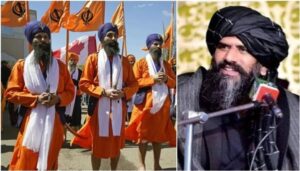 Sufi Islamist ideology
The video has been widely shared on social media, with many condemning Dr. Suleman's hateful comments. The Sikh community has expressed their disappointment and anger, calling for action against the Maulana. Maulana Suleman's comments are not only offensive but also reflect a narrow-minded and intolerant attitude. However, what more can be expected from these people.
"Pak Sufi 'Saint' Dr Muhammad Suleman wants to secretly convert all 'filthy/stinking' Sikhs to Islam (Sikhs 'misled' by their Guru)"

Many Sikhs revere Sufi 'saints' as their own!! This is how Sufis return the favor.pic.twitter.com/TkiQq53Gfc

— Pakistan Untold (@pakistan_untold) February 10, 2023
Pakistan is burning under the hell of religious fanaticism but its religious leaders are adamant to pursue their Jihadi dreams. So that their regime keeps working beyond boundaries.
Khalistani and Meem coalition
At the point of time when Khalistani voices and terror is increasing. Altogether, across the world Khalistanis are unabashedly threatening and killing people. These Khalistanis have no power to face those Islamists who are abusing Gurus. Khalistan is a puppet of Pakistani handlers funded by the West and many organisations support them in India too. While, true Sikhs who know their Sanatan roots and the Dharma Yuddha ahead are outraged at this disposition.
The new trend of Kahlistanis to equate themselves with that of other monotheistic religions brings them closer to Abrahamic cults. But, they forgot that without roots a tree cannot survive.
---
Reference-