It's none other than Alia Bhatt who has joined the privileged, nepotistic, and entitled gang of Bollywood. The privileges and no-struggle lifestyle of these actors has alienated them from reality, one that isn't even close to the truth. Audiences' love and emotions have always been taken for granted by Bollywood actors. The irony here is that exactly the same audience has made them celebrities, and because of them they live opulent lives. Among the consequences of nepotism in Bollywood is the brash, selfish, arrogant, defiant, proud, and distant behavior they display. They believe they are entitled to intentionally hurt and insinuate the audience.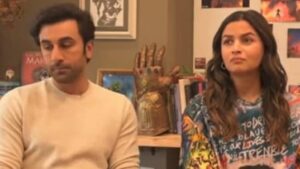 The film industry has had a bad year, where bad seems a tad lenient in light of the losses they have suffered. But these arrogant Urduwood stars refuse to wake up from their slumber and continue to slander their fans. It is possible to gauge how petty these 'celebrities' think about their audience from various incidents. Let's not forget the arrogance with which Kareena Kapoor dissed the audience in 2020, during a nepotism debate in Bollywood. Not only this, it was Mr. So-called Perfectionist Aamir Khan who said this over the Hinduphobia he proudly showed in PK, "Mujhe lagta hai ki yeh ek democracy hai aur haar aadmi ko apna vichar samne rakhna ka adhikaar hai". His arrogance and snobbish attitude are evident in this statement, as well as his 'concern' for Hindu sentiments.
https://www.bollywoodhungama.com/news/bollywood/alia-bhatt-breaks-silence-trolling-faced-star-kid-says-cant-keep-defending-verbally-dont-like-dont-watch/
People can mock Hindus in the guise of secularism, but Hindus are to be the sole guardians of democracy. However, lo and behold… In the event that Hindus boycott movies peacefully, the tables will turn. This is why it is absolutely justified the response these snobs like Taapsee, Kareena, Aamir, and Anurag Kashyap are getting in return for their arrogance. Considering they asked the people to boycott them, now when they are being boycotted, why are they wailing? In fact, Anurag Kashyap said people cannot afford to pay for his films because of GST. Undoubtedly, this illustrates how disillusioned these people are and how they have created a web of comforting lies for themselves.
The entire Urduwood feels threatened when the debate against nepotism is brought up. Why is that? The entire world observes how conveniently and unabashedly family members are promoted in Bollywood. Additionally, they make sub-par movies and insult the audience when audiences reject them. The Urduwoodians ignore the people in the country, especially the Hindus, and ironically believe themselves to be gullible. Various actors, such as Arjun Kapoor and Vijay Deverakonda, have once again demonstrated their arrogance by mocking the Boycott trend.
Adding fuel to the fire is Karan Johar's favorite Starchild Alia Bhatt, who has criticized the nepotism debate. Alia Bhatt recently stated in an interview with a leading daily, "I can't keep defending myself verbally. And if you don't like me, don't watch me. I can't help it. That's something I can't do [anything about]."
During an interview about alleged trolling, she faced as a star kid, the actor made the remark. Bhatt added, "People have something to say. Hopefully, I will prove to them with my movies that I am actually worth the space I occupy."
"What the hell is this nonsense? Why is this happening for no reason?" the actress exclaimed when questioned about the nepotism controversy surrounding the Indian film industry.
Is it feasible to use such language in addressing an issue that has plagued Bollywood for decades? Are there no opportunities for people without connections in Bollywood to pursue their dreams? As a result of this entitlement culture, Urduwoodians regard the ordinary public with disdain and belittle them. Having left the doors open for the public, the audience now has a clearer idea of what they are supposed to do with Brahmastra and Liger.
---
References:
https://in.mashable.com/entertainment/36883/anurag-kashyap-feels-gst-is-the-main-reason-for-films-not-doing-well-in-south-people-have-no-money
https://www.dnaindia.com/entertainment/report-amid-boycottligermovie-vijay-deverakonda-says-i-guarantee-you-the-movie-will-2978486