Navratri holds deeper values and significance for the Hindus all over the world. Its celebrations carry immense importance as well as mark new beginnings for the Hindu community.
Chaitra Navami marks the beginning of the Hindu New Year and is celebrated with much fanfare in Northern India. During Navratri, celebrations span nine days and each day has its own significance. According to tradition, Navratri is celebrated four times a year, corresponding with the change in seasons, with the most popular being Sharada and Chaitra Navratri; the former is a popular festival throughout the country.
Maa Durga is revered during Navratras. According to the Gregorian calendar, the Chaitra or Vasant Navratras usually occur in the months of March-April. The beginning of the Hindu year is marked by these Navratras. Hindu texts like Shakta and Vaishnava Puranas mention Navratras. Four Navaratras are celebrated in India each year: Sharada Navaratri near the autumn equinox (September–October), Vasanta Navaratri near the spring equinox (March–April), Magha Navratri or Gupt Navaratri (January–February), and Ashada Navaratri (June–July). NAVRATRAS typically occur during the bright half of every Hindu lunisolar month, irrespective of the month of celebration.
Sharada Navratri- This is the most popular Navratra celebrated by Hindus around the world. Sharada is so named because it commences on the first day (pratipada) of the bright fortnight of the lunar month Ashvini. In India, navratris are observed with much fervor across different states. Dashmi, or Dussehra, concludes the Sharada Navratras. In Eastern India, particularly Bengal, it is celebrated with the Durga Puja with vast pandals set up and filled with devotees. This is how it is also celebrated in Tripura, Assam, Jharkhand, Odisha, and Eastern Nepal, where goddess Durga is revered as Shakti Swaroopa. The Durga Puja festival marks the victory of goddess Durga over the shape-shifting, deceptive, and powerful buffalo demon Mahishura.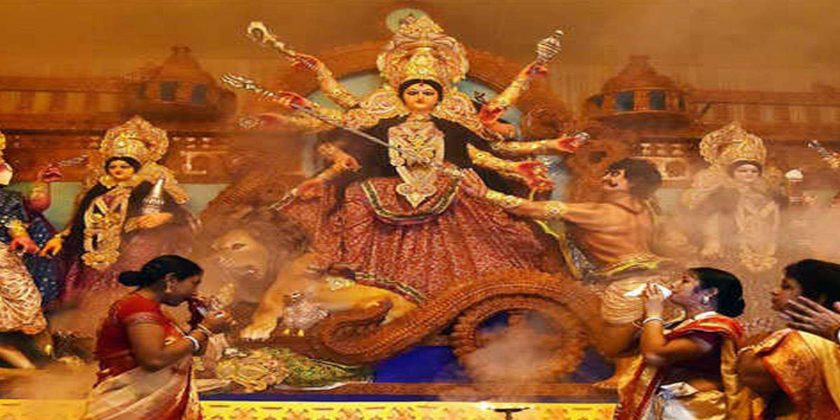 Both Navratras are observed by most people in North India, but the festive spirit sets in during Sharada Navratri. In several northern Indian states such as Uttar Pradesh, Uttarakhand, Bihar, Rajasthan and Delhi, Ramlila is performed during Sharada Navratri.
The nine days are celebrated differently in different parts of Southern India. In Kerala, Navratris are dedicated to Maa Saraswati, and books are worshipped, whereas in Karnataka, Dasara is celebrated, with the Mysuru Dasara being particularly well-known. Traditional dance forms such as Bharatnatyam and Mohiniattam are performed in Tamil Nadu.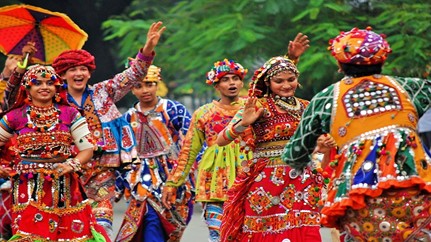 Garbo is celebrated in Western Indian states such as Gujarat, and people celebrate the nine days by performing Garba dance. In Goa, they celebrate Navratri with a major festival called Makharotsav.
Chaitra Navratri- This is the second most celebrated Navratri and it falls during the Vasant or spring season, so it is also known as Vasant Navratri. As per Vikram Samvat, it marks the beginning of the Hindu New Year. In Northern India, especially in the state of Uttar Pradesh, young girls are worshipped as Kanjaks, since they are believed to be as pure and innocent as Maa Durga.
Magha Navratri- In addition to being known as Gupt Navratri, Magha Navratri falls in January or February. India celebrates Basant Panchmi during Magha Navratri when Goddess Saraswati is worshipped.
Ashada Navratri- Ashada Navratri occurs in the monsoon season, i.e. the month of July or August. Generally, it isn't widely celebrated.
Significance of the Nine days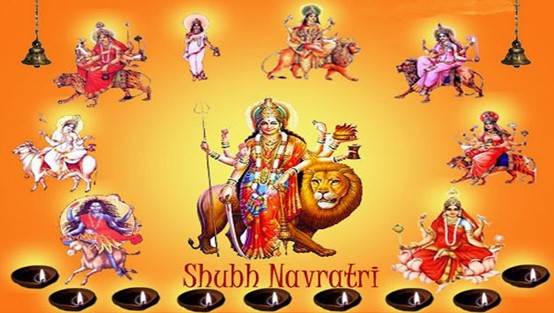 The navratras are celebrated to mark the victory of good over evil. This festival corresponds to the fierce battle that took place between Maa Durga and the demon Mahishasura. Each day is dedicated to Durga Maa's nine avatars, popularly called as Navadurgas'.
Shailputri- On the first day of Navratras, Shailputri Maa is worshiped. Shailputri means 'daughter of the mountain'. A manifestation of Parvati Maa, she is symbolized by the color yellow, which is symbolic of activity and vigor.
Brahmacharini- Maa Brahmacharini is another manifestation of Parvati Maa and is a depiction of Parvati when she became a Yogini (unmarried female). The color associated with her is green since she symbolizes calm and peace.
Chandraghanta- This name is associated with Parvati Maa after she married Lord Shiva.Due to 'ardhachandra' (half moon) adorning her forehead, she was called so. As Maa Chandraghanta represents beauty and strength, her color is grey.
Kushmanda- Maa Kushmanda is associated with the endowment of planet Earth with vegetation and flora.She represents new beginnings and prosperity, thus the orange color is associated with her.
Skandamata- Here Maa Parvati is depicted here as a Mother (mother of Skanda or Kartikeya), someone who is both nourishing and courageous when her child faces danger.The color white is associated with Skandamata.
Katyayani- Born to the Sage Katyayana, she is a fierce warrior with an indomitable spirit.As an incarnation of Maa Durga, her color is red, which indicates a fiery attitude.
Kaalratri- She is considered the fiercest avatar of Maa Durga, in which she sheds her skin as a symbol of shedding her demure and loving nature.As a result, she killed the demons Sumbha and Nisumbha, who had wreaked havoc and become unstoppable sources of negativity. Her color is Royal Blue.
Mahagauri- Mahagauri symbolizes intelligence and peace.Maa Kaalratri gained a warmer complexion after taking a bath in the river Ganga. Because of this day's significance, the color pink is associated with the coming into existence of Maa Mahishasur Mardhini.
Siddhidatri- Maa Siddhidatri is worshipped on the last day of Navratri.It is known that she possesses and bestows Siddhis on her devotees. Also, she is worshiped in the form of Ardhhanarishwar, which is an equal and mutual union between Shiva and Shakti. It is believed that after praying to her, Lord Shiva achieved Siddhis' and unsurpassable wisdom.
Thus, the significance of Navratras in the Hindu culture is unmatched, and they signify prosperity, knowledge, wealth, and joy, although they are accompanied by self-restraint. Navratras reflect the significance placed upon women in Hindu culture, as they are not just praised for their virtues, but also treated equally. Navratri is not merely a festival, but holds deeper meanings and lessons, in contrast to the false narrative developed by the pseudo-leftist cabal, which portrays Hinduism as a misogynistic religion. The wisdom behind Navratri and carrying the traditions for many more years is important for future generations.