Sharada Peeth is the highest seat of knowledge and liberation in the land of Kashmir. Maa Sarasvati is established in this land in the form of Maa Sharada. Once a great centre of learning and tapas, Sharada Peeth went through great destruction and oblivion in recent centuries. This was a grave situation for Sanatan Dharma. When the highest seat of knowledge goes into a state of dishevel, the light of knowledge also shuns.
But it is time that Kashmir is taken back to its past glory. This restoration has been started with the arrival of Maa Sharda. Sharada Peeth is situated in now Pakistan Occupied Kashmir (POK) in the Neelam Valley.
Restoration of Sharada Peetha
After all the ruckus the light of hope can be seen as Maa Sharada is coming back to Kashmir. The newly built Sharada Devi temple is inaugurated by Home Minister Amit Shah in a virtual meet. This a matter of joy and great optimism for Hindus. It is this time when we should take a sankalpa (pledge) to keep our temples and civilization intact, no matter what.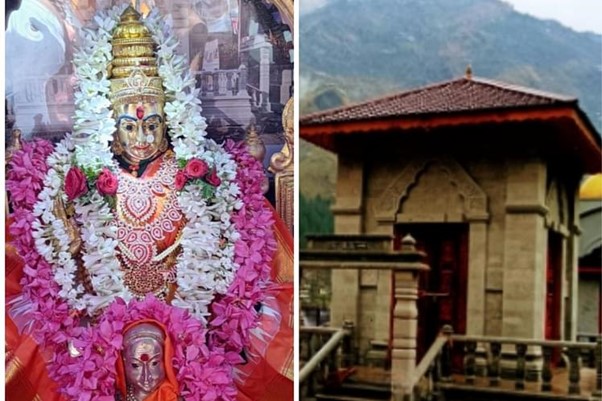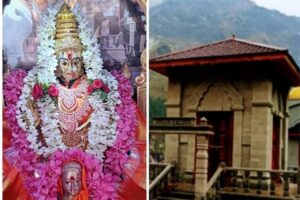 On 22nd March HM Amit Shah inaugurated the temple in the Line of Control in Jammu and Kashmir. The vigraha of Maa Sharada is made by five metals and sent by Sringeri Math.
Moreover, the whole temple is built in Kashmiri style of architecture. Along the Kishenganga river a ghat will also be constructed dedicated to pitra puja.
Save Sharada Committee Endeavoured
According to the reports in Swarajya, the temple is built by the efforts of Save Sharada Committee Kashmir. Save Sharada Committee was designated to revive the Sharada Peetha.
This was an effort of the years by the Kashmiri Pandits to bring to a point that the temple could be revived. The whole endeavour was supported by the Sringeri Math Shankaracharya Jagadguru Vidhushekhara Bharati ji.
The new temple is consecrated in Teetwal, this is where the yatra to save Sharada Peetha was started. And the temple construction process got the full support of Sringeri Shankaracharya and the Math commissioned the vigraha of Devi.
According to the current scenario, the inauguration of temple is done on Chaitra Pratipada and the pran-pratishtha will be done in May. The auspicious service of pran-pratishtha will be done by Jagadguru Sri Sri Bharati Tirtha ji.
Conclusion
This is a victorious and auspicious moment for the Kashmiri Pandits, because they have been the most affected due to the destruction in the valley. Since, the peetha was a centre of learning and propagation of knowledge for centuries. Therefore, this consecration will escalate the virtuous energies in the valley and a revival of knowledge tradition by the Kashmiri Pandits will see a new dawn.
---
References-