T. Raja Singh aka the Hindu Sher recently spearheaded a massive Hindu Jan Akrosh Rally in Pune and Mumbai, Maharashtra. Hindus gathered in large numbers for the rally organized by the 'Sakal Hindu Samaj' to demand laws to curb conversions and land jihad. During the Mumbai march, women took the lead.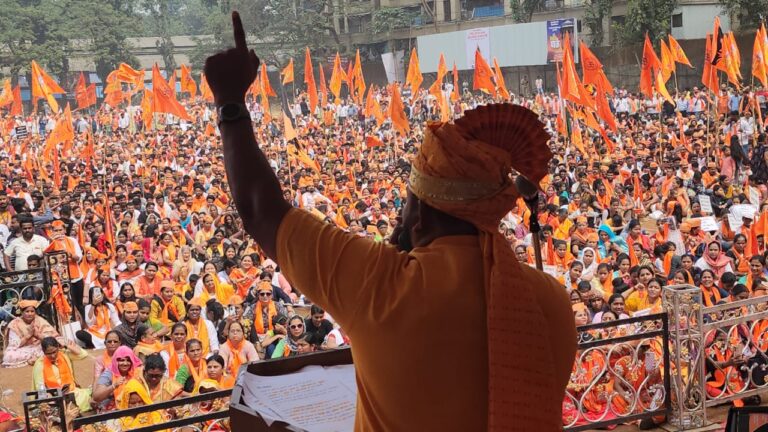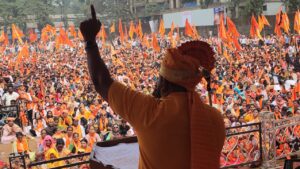 The Massive Hindu Participation

In

Jan

Akrosh

Rally
There were many leaders from the BJP and Eknath Shinde's faction who attended the rally. BJP leaders Kirit Somaiya, Ashish Shelar, and T Raja Singh attended the rally. Considering the upcoming BMC elections, this rally was significant, as Hindus came out on the streets to voice their concerns. Maharashtra, the homeland of Hindu warriors, has now been infested by the virulent Islamic community.
Maharashtra has seen tremendous growth in the Muslim population, especially near Mumbai and major cities. As part of their Jihad, Muslims will impose their Islamic laws upon everyone as their population grows.

The entire rally was about raising Hindu voices against the various forms of Jihad adopted by Muslims and the rising use of loudspeakers over mosques.
Participants raised slogans such as "Jo Hindu Hit mein kaamkarega, wahi Desh pe raj karega, Garv se kaho hum Hindu hai" (One who works for Hindus will rule the country, Be a proud Hindu!).
Dekh lo apni aankhon se
Aaye hain Hindu lakhon main??

Lakhs of Hindus across castes & class came together at Shivaji Park to protect our daughters,our future,our sanskriti, in the land of Chh Shivaji Maharaj

Hear voices of #HinduJanAkroshMorcha??

Jai Shivaji?
Jai Bhavani ? pic.twitter.com/rjil1D3Hb3

— PallaviCT (@pallavict) January 29, 2023

"Today, I'm delighted to note that Hindus have gathered here in large numbers and particularly women attending this Hindu Jan Aaakrosh Morcha in huge numbers. For Dharma to be safe it is important that women are involved. It is essential for Hindu women to become Jijamata today. Jijamata trained Shivray in Dharma to fight the Mughals who were inflicting atrocities on Hindus. However, today women want their children to pursue various professions such as engineering or medicine but they don't wish their children to become like Shivray", said T Raja Singh.
The Agony

Of

A Being A Hindu
Hindus expressed their anguish over the demeaning and oppressive attitude displayed by Muslims. Muslims always harass and trouble Kafirs because of their practices and beliefs. Muslim-dominated areas have forced Hindus out of their homes for generations or to accept Islam. At the rally, many Hindu women related their experiences of being harassed and traumatized by local Muslim goons.
"Lakhs of Hindus have come together today to protest against love jihad and land jihad. Muslim men, in particular, are trapping Hindu girls. They marry our girls and either force the girls to convert or murder them. Also, they have encroached on BMC property by erecting mosques & other religious structures on land grabbed by them. The younger generation of Hindus are also not understanding the gravity of the issue as they are blinded by secularism", said a participant.
It was a peaceful rally despite the large turnout, unlike when Muslims cause riots and havoc at every opportunity. Hindus are living on a ticking bomb as a result of the rising intolerance and threats posed by Muslims. The sooner they realize this, the better, as secularism has already damaged our existence, and the longer it persists, the worse it will become.
—————————————————————
References: