The savage Khalistani separatist leader, Amritpal Singh, has been detained in Punjab. In addition to threatening central ministers, he challenged India's statehood. There was a serious safety concern associated with spreading falsehood and dividing India based on Khalistani idea.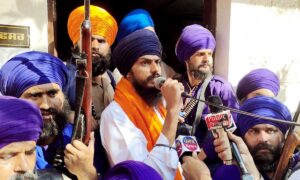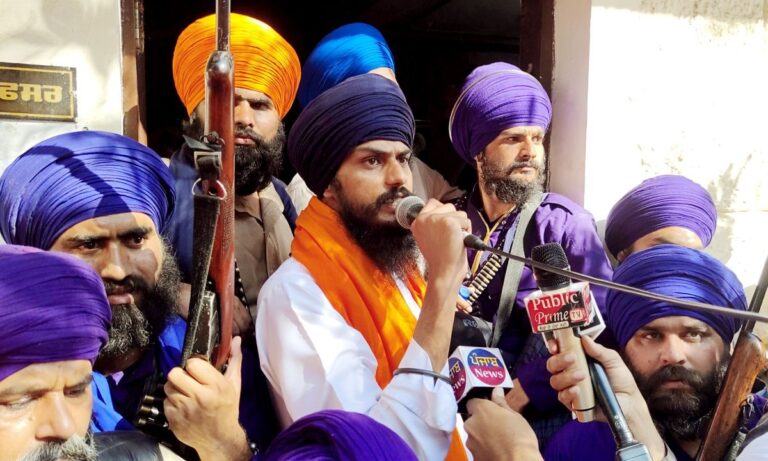 Events Leading To Amritpal's Arrest
It was due to this public declaration of Khalistan and the provocation of his followers that Khalistani terrorists spread violence across Canada, Australia, and other nations. Amritpal Singh had openly challenged Home Minister Amit Shah on his meeting the same fate as Indira Gandhi.
As a result of a smooth operation, the central forces and state police administration were able to arrest this dangerous extremist leader. Amritpal Singh was detained in the wake of the violent Ajnala incident a few days ago by his supporters of Waris Punjab De. The crackdown on Amritpal Singh is because of his involvement in criminal activities and the false narrative he peddled. On short notice yesterday, the controversial leader of Waris Punjab De announced there would be an event held in conjunction at a different location with Sidhu Moosewala's Barsi, as was marked by the latter's family.
The intent of @BhagwantMann govt. behind creating a road runner tamasha seems to make a hero out of Amritpal. An unnecessary road chase, @PunjabPoliceInd should have trapped Amritpal in his burrow.

All of this looks like a cretion of Kejriwal & Co. as a Media event to divert… https://t.co/wSmWzKNJHs

— Ramnik Singh Mann ?? (@ramnikmann) March 18, 2023
Amritpal Singh raised questions about India's integrity and was a driving force among separatists in India. Furthermore, he drove a narrative that sought to divide Hindus and Sikhs in addition to dividing India. Amritpal Singh had various nefarious links and his sudden appointment as the leader of Waris Punjab De for someone coming from Dubai raised many eyebrows.
The Operation To Arrest Amritpal Singh
The Punjab police machinery and the state government worked together to detain Amritpal. In Punjab, the police have dealt effectively with Khalistani terrorism. To avoid rioting-like situations, the police have kept his whereabouts hidden due to the serious nature of the arrest. Various internet-based services have been halted in Punjab until 12 pm tomorrow, with the exception of essential calls.
KhaIistani Amritpal Singh arrested by Punjab Police.

Well done @BhagwantMann, really appreciate this… pic.twitter.com/DLP5dSpiG1

— Mr Sinha (@MrSinha_) March 18, 2023
Currently, the state police have deployed its personnel around his village to prevent any untoward incidents. The Home Ministry is continuously monitoring events by keeping a tab on them. The police arrested six supporters of Amritpal prior to his detention. To avoid his own arrest, the so-called fearless and brazen Khalistani leader pleaded with his supporters to protect him. In spite of the police and administration falling under the state affair, the Central administration had to intervene when the AAP government failed to handle the aftermath of the Ajnala incident. In order to maintain law and order, Amritpal's supporters' arms and ammunition licenses were revoked to maintain proper control. Moreover, foreign-linked social media accounts that incited violence were also blocked. It was a careful, precise, and calculated series of steps that led to today's events.
Numerous media reports report that Amritpal will be investigated by the NSA for his nefarious connections.
Conclusion
Amritpal Singh was driving a vicious agenda against India and Hindus across the board. He was detained at a time when he had gone to extreme measures and started a dangerous hate campaign against India. His network extended beyond India to other nations where Hindus and Sikhs had considerable populations. Temple vandalism in Australia and Canada is a recent example of this. There was a danger in his open and unabashed threat calls for the Home Minister to be targeted, as well as his brazen demands for Beadbi. It was his efforts to radicalize and indoctrinate the youth that posed a serious threat to national security. In spite of his attempts to escape, all his false bravado was called out when he was caught without his supporters. Paramilitary and police forces' commendable actions have placed the secessionist leader under the protection of security agencies, considering the threat he posed. It was long overdue that this action was taken, despite official confirmation pending from the police as of yet.