Ashok Gehlot, a decades-old Congress loyalist, has locked horns with his political masters in a brand-new drama. This is an apt place for the famous quote 'Kissa Kursi Ka,' which will leave everyone amazed. Power is always cyclical, so Gandhis now have to see the mess they created for power.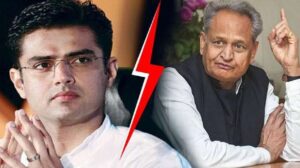 The Turn of Events
To appear democratic, the Gandhis will not be contesting Congress's presidential elections for the first time. Former congressman Gehlot, who was vying for the post of Congress President, was disappointed by RaGa's policy of "One Person-One Post.". To apply for the post, Gehlot had to resign as Rajasthan's chief minister, this reportedly didn't go down well with him. The Congress leadership is reportedly annoyed that Ashok Gehlot plotted a rebellion at such a crucial moment. It especially comes at a time when Rahul Gandhi is actively promoting the "Bharat Jodo Yatra".
For the Gandhis, such a reaction from a long-time loyalist was unexpected. Although Gehlot accepted the transition superficially, he was expected to demonstrate the strength of all party members. Unfortunately, only 20-25 MLAs showed up, and the majority of MLAs attended a meeting at Shanti Dhariwal's residence instead. There is a strong belief that the latter is close to Gehlot. In the aftermath of that meeting, the MLAs threatened to resign en masse, if Sachin Pilot was nominated for CM.
Congress MLA Sachin Pilot refutes the following information; says he has spoken neither with the party's high command nor with Rajasthan CM Ashok Gehlot pic.twitter.com/RT54CqMfzo

— ANI (@ANI) September 27, 2022
Moreover, the MLAs refused to meet Kharge and Maken, which showed their open defiance toward the Congress chiefs. Gehlot denies having any involvement in this incident, which was orchestrated by three ministers close to him. While Gehlot claims the MLAs were angry, everyone believes it is implausible that 92 MLAs could resign simultaneously.
The Rajasthan crisis has turned the tables on the grand old party. The contest between Tharoor and Gehlot has now flipped on its head.
Congress is now considering Kharge and Digvijay Singh for the post of the presidential candidate.
Conclusion
The recent events indicate that resentment is growing within the Congress party. A strong hierarchy and excessive control are causing internal disagreements within the party. Just a quick recap of Congressmen's scam history is needed to understand how greed is synonymous with them. Throughout these times, the party has been beset by their desire for excessive control, which they believe is their sole right. Since previous state elections, there has been a dramatic shift in the feud between the Gehlot and Pilot camps. It's just that now it has taken a dramatic turn no less than a Bollywood film, so everyone should enjoy watching it.