Since its inception world has landed into more complexity, and further more chaos. And AAP, Aam Admi Party is also a blink in that chaos. The chaos that runs in their veins, the corruption that governs their hearts, has a new tale every day. Their creativity brings new dawn in the Indian political circus each day. Having played uglier role since even before coming to the power, their show is not stopping yet. Rising after a whole anti-corruption movement, and sitting on the shoulder of a veteran like Anna Hazare had given them a great victory. But all the suspicious acts by them is signifying something else.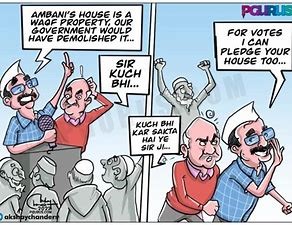 Scams are Popping Out
Manish Sisodia, always proving to be the best Education Minister of the world, has been caught in a liquor scam. However, there are no regrets. Because, this is the parampara, pratishtha and anushasan of Aam Admi Party. It began with the CBI raids in the residence of Deputy CM of Delhi Manish Sisodia. Since then there has been a continuous word-war played on between BJP, AAP and citizens.
AAP has also brought in the investigation agency CBI by alleging them. In a bite, Sisodia claims that CBI has been asking him to leave AAP. And all this is part of Operation Lotus.
What kind of sham they are creating out of some serious outplay of public money. He is also claiming that CBI officers told him that cases against Satyendra Jain are also fake.
Very Important Thread

1. AAP should clarify to the people of Gujarat about their relationship with foreign-funded anti-Hindu and anti-India NGOs and their founders.

Let me show you an example 👇

— Vijay Patel🇮🇳 (@vijaygajera) October 16, 2022
Manish Sisodia and Arvind Kejriwal have always been the persons to mislead and create issues which ignite sensation among people. We know that in what way their mismanaged actions during Covid pandemic for which people of Delhi paid. Playing blame games and advertisement games made them popular across the globe.
CBI's Clarification
In a statement by CBI, they clarified that being investigated for the excise policy case of Delhi, CBI never did say anything as claimed by Manish Sisodia. The whole investigation was carried out in a professional manner, strictly as per the allegations against him in the FIR.
Interestingly, again and again, from almost 15 days Kejriwal is claiming that Manish Sisodia will be arrested today. They themselves want to encash upon such anti-publicity in the Gujarat assembly elections.
Conclusion
AAP believes in creating sensation and news using their money power. Their association with foreign funded agencies and involvement with breaking India forces is nothing new. It is time that people also realise that on what kind of people rely their future on. And how much of their diligence is true. Everything taken on face value is not truthful. Creating an equivalence with Bhagat Singh JI won't get the desired laurels, rather it would make them a laughing stock.
AAP spokesperson doesn't have a clue about Bhagat Singh Ji pic.twitter.com/hTQoDurDpt

— Shehzad Jai Hind (@Shehzad_Ind) October 16, 2022
---
References