NDTV is such a perpetrator that never stops indulging in fakery, misleading information and anti-Hindu agenda. Though this is all a game of fake news and confusing people. But the underlining agenda is maligning the Hindu society and country.
Adani Takeover Of NDTV
There has been much of an issue made out of the Adani's company taking over 29% in NDTV news channel. There has been a flood of op-eds written to declare it as doomsday of the freedom of speech. Global leftist media has declared it as a 'hostile takeover'. The company owned by Prannay James Roy, still has most of the share in his name.
The band wagon of 'freedom of speech', led by Kapil Sibal and Sanjay Jha regard NDTV as a bastion of democracy which has now been corrupted by some invaders. The company owner himself is showing it as an unexpected move which they never saw coming. The employees of NDTV are trying to show themselves as a victim. However this is totally a commercial matter which has nothing to do with the choice of the employees. It is to be noted that the loan given by Adani group, was during the UPA regime. And there was no sign of BJP rising.
However there are many lingering questions, needs to be asked from the NDTV company owners.
Did the loan get sanctioned without their knowledge?
What are the areas of investment done using that 400 crore rupees of loan?
What was the collateral set against the loan?
There are many such doubts which need to be dispelled by the so called democratic NDTV.
However, their conduct has never been out of suspicion. And it is to be noted that, any of the media company is neither an NGO nor a non-profitable trust.
They all run on big business investors' money and somewhere or the other where each stakeholder has their say in setting up the narrative.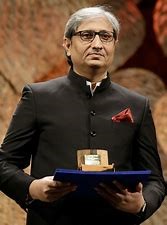 Hindu Hating Masquerading Jihadi Agenda
Secularist journalism of NDTV has taken a toll over the truth. There are many instances which show that NDTV has always tried to hide jihadi agendas. However, they don't leave a chance to use Hindu identity as a criminal and Muslims as a victim.
NDTV referred to Ankit Sharma, simply as "an intelligence officer" today while reporting on another arrest in his brutal murder case. Just "intelligence officer." No name. Because NDTV doesn't believe in reporting identities when the victim is Hindu.

— Kavita (@Sassy_Hindu) October 14, 2022
Business as usual for ₹@ndtv
??‍♂️??? pic.twitter.com/qLmFXqnjDo

— Dr. Raj ? (@MemebhaiMBBS) October 13, 2022
Recently, when police got hold of the Jihadi who had killed the IB officer Ankit Sharma, NDTV tried to bend the situation. It is very clear that Delhi riots were totally Anti-Hindu and it was a planned effort through a proper terror-funding nexus. NDTV's biased reporting and totally agenda driven news has polluted the whole media paradigm. Name of the killer is Muntajim, who was arrested by the Special Cell of Telangana Police. He is accused of killing Ankit Sharma and killing him near Delhi's Chand Bagh. These riots were the point of time, when so many evidences and real life incidents came along proving it to be highly planned action. The whole game curated on a leftist-jihadi network.
Conclusion
NDTV and its look alike are the bots who are created to perform particular tasks; and these tasks are specifically Hindu hating and breaking India. Breaking India forces have many faces which have been curated as the pillars of democracy but their real agenda is creating rift between people and instil anger and hatred in the minds of people. Creating a rift between the capitalists and the risk-takers by pointing to the poor citizens is an old blackmailing game. NDTV and the like Global media companies must be reminded again and again they are also some stooges of a cabal that sustains on peddling negativity and chalks out plan to create chaos.
---
References