California has tabled a bill in the state's senate seeking an explicit ban on caste-based discrimination. This bill has cleared its first legislative hurdle after the state's senate judiciary committee unanimously decided to move the draft law to the senate.
The state of California has a 2% Hindu population, which amounts to less than 5,00,000 Hindus in the entire state. Approximately 90% of these Hindus are from an upper caste. Consequently, we can assume that the bill made to include bans on caste-based discrimination is aimed to provide relief to less than 0.2% of its total population. This is a clear attempt by the "White West" to racially profile Hindus in the USA. It opens up a dangerous territory of caste-based politics in the USA.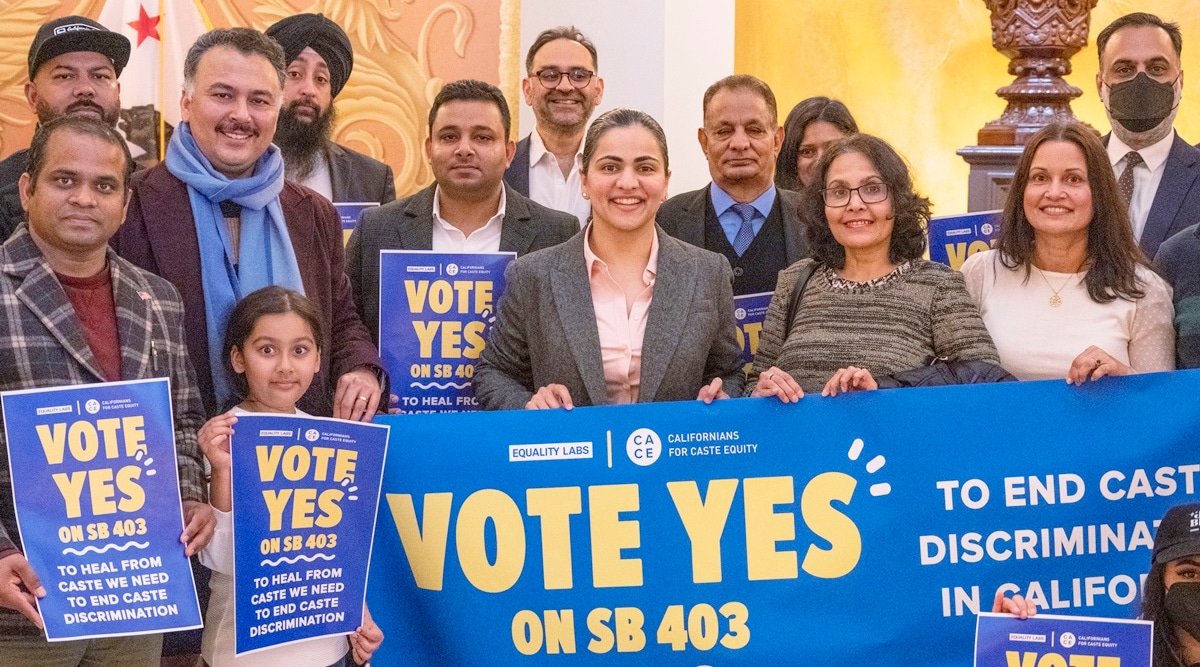 Equity Labs and its Survey 
In 2018 Equity Labs conducted a survey aimed at lower caste Hindus in the US. Only 1,500 people responded to this 47-question survey on caste-based social dynamics. Equity Labs claims to be a US-based Dalit Organization. Their mission is to encourage caste oppressed, queer, and religious minority communities in the South Asian communities of the USA.
According to the organization, in the United States, two out of every three workers suffered caste bias at work. Furthermore, 25% of the Dalits surveyed experienced verbal or physical abuse because of their caste, and one in every three Dalit students reported being discriminated against during their education. Moreover, it emphasized that two out of every three Dalits reported being treated unfairly at work, and 60% of Dalits were subjected to insulting caste-based jokes.
It also stated that 40% Dalits and 14% Shudras were made to feel unwelcome in places of worship, while 20% Dalits felt discriminated against in a place of commerce.
However, the survey only represents the views of 0.03% of the total non-upper caste Hindus. Additionally, the Carnegie Endowment researchers state that this survey used a non-representative snowball sampling method to identify its participants. Thus, the survey results were skewed in favor of those with strong views about their own caste.
US response to the 2018 Equity Labs Survey
Brandeis University was the first university in USA to ban caste-based discrimination in 2020. Its example was soon followed by Harvard University, the California State University, the University of California, Davis, and Brown University. In February 2023, Seattle, the first city in the US, banned caste-based discrimination.
In 2020 University of Pennsylvania, Johns Hopkins, and the Carnegie Endowment for International Peace conducted a survey that found that less than 2.5% reported caste discrimination. The Equity Labs insists that reported discrimination is due to fear of H1-B Visa and other immigration laws. 
The Real Impact of the California Caste Bill
The California Caste Bill creates more discrimination than it addresses. Also, it paints the South Asian American community as a racist and backward society. The supporters of the bill do not realize that the bill gives license to racial profiling of South Asians in the US. The bill will create more disharmony at hostile work or educational environments for employees and students. It is an attempt to divide the Hindu community and introduce socio-religious politics into the mix.
The Indian Community contributes more than 6% to the total GDP of the USA. They contribute to social upliftment. They are beginning to make a significant impact in terms of votes and donations in the US political arena. The California Caste Bill is an attempt to divide this strong community and control them using the age-old policy of "Divide and Rule". The division of Hindus and South Asians in the US will benefit the policy makers. The Bill will not gain anyone social equality or improve workspace disparity.
If a South Asian person is doing well in the US, then it is obvious that they have broken through the glass ceiling of caste oppression in their native country to accomplish it. The social discrimination they may, or may not, have faced in their lives cannot be abolished by a Senate Bill. South Asians and Indians in general, and Hindus in particular must understand that social acceptance is never accomplished through Senate Bills and Laws. This acceptance is only gained by earning respect of your peers and friends through deeds and words.
---
References: