Defence sector in India is now starting to boom with all-round endeavours of the top leadership. Absolutely, once the biggest exporter of arms and ammunitions, India is now becoming into an exporter. And moreover, establishing itself as the self-reliant defence power within few years.
This may seem like a far-fetched dream for India which is known to be dependent on USA and Russia for its defence supplies. But, now this dream is metamorphosing into reality. And Narendra Modi is the biggest visionary of the 'Defence – Exporter India'.
India is Surrounded by Challenges
It is a well-known fact that India is facing tremendous challenge from China and Pakistan. Along with that, India's economy and especially defence sector was heavily dependent on USA. And for USA, it is a fact that friendship of USA is even more dangerous than enmity. Being such a large country, it is the responsibility of Bharat to stand on its own for such an inevitable requirement, i.e. defence. Therefore, this dream of challenging the challenges and transforming obstacles into opportunities has been taken up by PM Narendra Modi on a war-footing.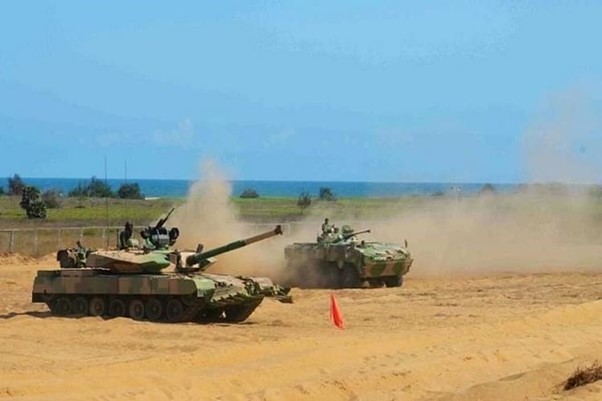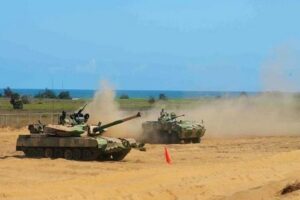 Aero India 2023
Speaking in Bengaluru Aero India 2023, PM Modi clarified his great vision. Not only a vision, but as a hard task master PM Modi sets the deadline of year 2025 when India's defence export will rise to $5 billion. He named Tejas, INS Vikrant and many such indigenous defence systems developed by Indian companies.
"From here, India will take rapid strides to be counted among the largest defence manufacturers, and our private sector and investors will play a big role in that", sums up Prime Minister's vision for India.
BrahMos became the Ice- breaker
Last year India finalised the deal with Philippines to supply BrahMos missiles. This deal is worth $375 million. And there is also an upcoming update that another export deal can be signed with Indonesia.
CEO of BrahMos Aerospace informed the News Agency that they are in advance talks with Jakarta on signing deal around worth $300 Million.
BrahMos is joint venture of Russia and India, which is supersonic cruise missile and has a maximum range of 290 km.
India's deal with Armenia to export Pinaka multi-barrel rocket launcher is around 2000 crore. Alongside, Bharat Forge which is a private firm to supply howitzers to Armenia.
These are just small deals but a major breakthrough for us. Because not only we are making ourselves stronger in this field, rather strengthening relations with the other nations.
Cutting Down Imports
A significant cut down in the defence imports has been noted. Minister of State of Defence Ajay Bhatt had released a statement showing that cost of defence export has been brought down to 36% in comparison to 40%. By March 2023, India's defence export has also increased from Rs 12,815 crore to Rs 13,399.
Defence Ministry has approved proposals worth over Rs 70,000 crore for buying different weapon systems for the Indian defence forces.

The meeting of the defence acquisition council headed by Defence Minister Rajnath Singh has given approval for proposals to buy 60 Made in India… https://t.co/n6lfWzXSKm

— Alpha Defense™ (@alpha_defense) March 16, 2023
Conclusion
Government of India's extensive support to private firms and public bodies to research and innovate is unprecedented. This is an opportunity where India can explore greater avenues of a very specific type of needs which are also useful for urban combats, in a set-up like India. Government has also approved of a technology development fund scheme that will cater to the needs of of MSME (micro, medium and small enterprises) into this sector. Because, MSME in India can do wonders in limited resources and with wonderful entrepreneurial skills.
Therefore, defence is not just our shield of protection from the enemies it has many other targets as well. From economic boom to geo-political ties many avenues are being set by the vision of defence- corridors.
---
References